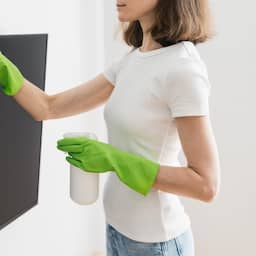 ---
08 Jan 2023 at 05:35
Fingerprints, stains, dust or ugly stripes: sometimes your new TV needs a good cleaning. With these tips you can do that without damaging your screen.
A new year has started, time for a big cleaning. If you have cleaned the whole house, it is nice if that large flat screen on the wall also looks a bit neat. You may have bought a nice 4k TV, but how do you safely get rid of all that dust and stains?
Do not do this
A smart TV is a delicate piece of technology and should be handled with care. Before we tell you what to do, we will first give you some tips about what you should not do. For example, do not use glass cleaner such as Glassex, because it contains alcohol. The panel of your TV can't handle that well. Other cleaning agents containing alcohol, acetone or ammonia are also prohibited.
Don't use too much water anyway, because that can run into the edges of your TV and damage the equipment. Even a damp cloth is not a good idea. And that's why you can't make soapy water with detergent. It cleans the screen well, but you can't safely rinse it with a lot of water.
In addition, make sure you have a good cloth that is not too hard. Toilet paper, tissues or a tea towel are not suitable, because they can scratch your screen. Preferably grab a microfiber cloth.
Do this
First, turn off the TV completely and wait a while for the screen to cool down a bit. It's easier to leave streaks on a warm surface.
Grab your microfiber cloth and gently brush off the dust first. You can also do this with a kind of soft brush, which is sold especially for cleaning TVs. Sometimes you get such a brush when you buy a TV.
Then wet your cloth a little and wring it out well so you don't leave too much water behind. Gently wipe the screen to wipe away fingerprints and the like. Don't press too hard; it is better to rub gently a few times than too hard once.
What if there is still dirt left?
This will be sufficient for normal dirt, but if you still see stains, you can buy a special cleaning spray. Or you can make your own mixture of half water, half vinegar. Here too, you should not make the TV too wet. So don't spray the product directly on the screen, but moisten your cloth a little and polish it again.
If your TV has a thicker bezel, you don't have to be so careful with it. The housing is probably made of plastic, so you can scrub it fairly hard. Just be careful not to accidentally touch the screen when you're handling liquids or cleaning cloths.
Unfortunately, this content cannot be displayed. We do not have permission for the necessary cookies. Accept the cookies to view this content.
Change cookie settings
Beeld: GettyImages
---
Read more about:
EconomieTechLifehack
---
---
---
---