---
Jan 08, 2023 at 3:21 PM Update: 8 hours ago
Mitchel van den Brink finished second on Sunday in the eighth stage of the Dakar Rally in Saudi Arabia. The Dutch trucker had to tolerate the Czech Martin Macik.
Twenty-year-old Van den Brink had to admit 59 seconds to Macik. Czech Alais Lopres finished third and kept the lead in the general classification.
Lopres ran out on Martin van den Brink, who lost fifteen minutes to the classification leader in the test. Janus van Kasteren, the winner of the seventh stage, also lost a lot of time. He is still third in the standings.
Sébastien Loeb, nine-time world rally champion, won the 346-kilometer test for the cars. The Frenchman benefited from a time penalty for Carlos Sainz.
The Spaniard completed the test fastest, but was added five penalty minutes to his time. He drove more than 40 kilometers per hour too fast on a part of the course where the maximum speed was 30 kilometers per hour.
Sainz therefore finished third, also behind Nasser Al-Attiyah. The defending champion from Qatar still holds the lead in the general classification of the cars.
Another winner in motorcycles
Ross Branch (Hero) won the eighth stage on the motorcycles. The Botswana rider took the lead from American Mason Klein (KTM) halfway through the ride from Al Duwadimi to Riyadh, who finished third after a time penalty. The Australian Daniel Sanders (GasGas) came second at more than three minutes.
Klein first seemed to take over the lead in the standings, but that was canceled due to the two-minute penalty. The lead remains in the hands of his compatriot Skyler Howes, who finished seventeenth at 15.06 minutes from stage winner Branch. The Argentinian Kevin Benavides and Klein are both one minute and thirteen seconds behind Howes.
Branch is already the eighth motorcyclist to win a stage in this Dakar Rally (including prologue). No rider has managed to book two stage victories so far. The Botswanan already won a stage in the desert rally in 2020 that will last another week. Monday is an official day of rest.
07 Jan 2023 at 13:17
Van Loon has to leave Dakar Rally after crash, victory for trucker Van Kasteren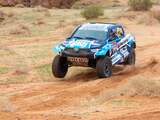 Image: Pro Shots
---
Read more about:
Dakar Rally
---
---
---
---