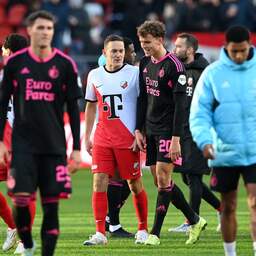 Jens Toornstra experienced a special reunion with his old employer on Sunday in the shirt of FC Utrecht. The former Feyeno player scored the opening goal in the game, which ended in a 1-1 draw.
Within three minutes it was a hit for FC Utrecht and Toornstra. The 33-year-old midfielder gave the home team the lead in De Galgenwaard, but cheered modestly. "He just wore the wrong shirt today," said Slot with a broad smile at the press conference.
Toornstra was still under contract with Feyenoord at the beginning of this season, where he had a reserve role. Because of his services rendered in the past eight years, Feyenoord cooperated in a departure. Toornstra became champion once with the team from Rotterdam, won the KNVB Cup twice and the Johan Cruijff Shield twice.
"He played very well and we could have used him well this season," Slot continued. "But we also knew that when we chose to think along with him at the time. Jens wanted to play and then we chose to be super chic."
Toornstra himself could hardly believe his goal. "Bizarre, isn't it," he responded to ESPN. "I have not even made it into the sixteen this year, but today the ball fell at my feet. I said in advance that I would cheer with respect. I think I succeeded."
Toornstra was substituted in the final phase and received a nice round of applause from the fans of both Feyenoord and FC Utrecht. Feyenoord coach Slot fooled around with the midfielder afterwards. "He pushed me", Toornstra said with a smile. "I think he wasn't very happy with me today."
Due to a late equalizer by Alireza Jahanbakhsh, FC Utrecht-Feyenoord ended in a 1-1 draw. Feyenoord remains the leader, three points ahead of Ajax and PSV. FC Utrecht is seventh.
---
---