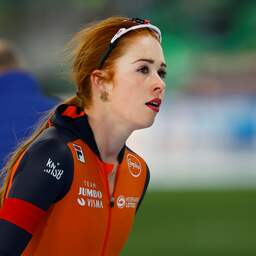 Antoinette Rijpma-de Jong strengthened her leading position at the European Allround Championships in Hamar on Sunday by winning the 1,500 meters. The defending champion took less time on Marijke Groenewoud and Ragne Wiklund than she had hoped.
Rijpma-de Jong will ride an excellent 1,500 meters this entire season. At last week's NK all-round in Thialf, she was almost two seconds faster than Groenewoud on the skating mile. On Sunday in the Vikingskipet, the difference between the two Dutch women was only 0.27 seconds: 1.55.39 to 1.55.66.
The Norwegian Wiklund also stayed within a second of Rijpma-de Jong's time. The reigning world champion in the 1,500 meters clocked the third time with 1.56.29. Rijpma-de Jong defends a lead of 10.33 seconds over Groenewoud and 12.63 seconds over Wiklund in the final 5 kilometers.
The gap between the top three and the rest of the field is immense. Robin Groot came closest in the 1,500 meters (fourth in 1.58.27). The European Championship debutant is also number four in the standings, trailing Rijpma-de Jong by 35.63 seconds.
The 27-year-old Rijpma-de Jong came first in the 500 meters on Saturday and second in the 3,000 meters, behind Wiklund. The Frisian took gold at the last two European Championships. With a third European title in a row, she would follow in the footsteps of compatriots Ireen Wüst (2013, 2014 and 2015) and Atje Keulen-Deelstra (1972, 1973 and 1974). Wiklund (22) can give Norway the first medal in a European Allround Championships for women.
The 5 kilometers starts on Sunday at 3.21 p.m.
---
---