---
08 Jan 2023 at 08:08
Hein Otterspeer seemed to be on his way in Hamar to finally win his first international title at the age of 34. Until he almost crashed in the 500 meters at the European Championship sprint on Saturday. The second place behind European champion Merijn Scheperkamp was not even a small consolation.
Otterspeer heaves a deep sigh when he is asked in a corridor by the Vikingskipet how he is going to deal with the blow of his disappointing European Championship. "Pooh, I don't know yet," he says. "I'm going to go outside first to cool off a bit."
A walk in the Norwegian freezing cold will not be enough to dispel the pain. In the ninth international title tournament of his long career, Otterspeer had the perfect opportunity to fill the biggest gap on his honors list. But due to a big miss in the inside corner of the second 500 meters, he wasted his chances.
"This is very sour," says the Team Reggeborgh sprinter. "I feel defeated. I let the gold slip through my fingers, you could say. A tough day at the office."
Halfway through the sprint tournament in Hamar, Otterspeer had a lead of 0.14 seconds over Scheperkamp. Due to his failed 500 meters – at 35.68 he was more than half a second slower than the day before – that advantageous margin suddenly changed into a deficit of 0.82 seconds. Despite winning the final 1,000 meters, the four-time Dutch champion had nothing more to offer than silver.
"If I had done what I could today, it would have been enough for the win. That just doesn't count," says Otterspeer. "After the 500 meters I was of course very disappointed, but I knew I shouldn't linger in that feeling for too long. I had to keep going, I could hardly give myself a win before the final distance. But when I was on the scoreboard after the 1,000 meters saw the second place behind my name, I realized: I could have had this title."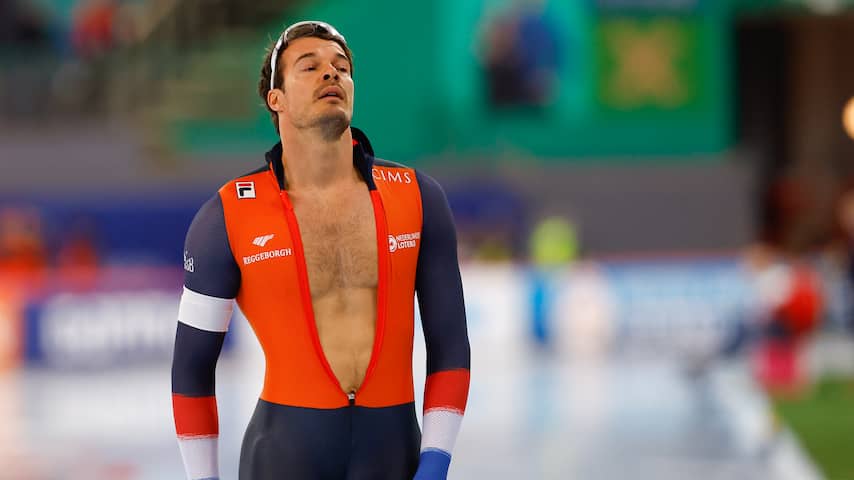 Hein Otterspeer is disappointed after his last 1,000 meters at the European Championship sprint. Photo: Pro Shots
Otterspeer makes two misses in the last corner
Otterspeer's problem in Hamar was about halfway through the last corner before the finish. On Friday he had to go to the ice with a hand on the first 500 meters, although that didn't take him much time. Moreover, he immediately had an explanation for that miss. "I entered the inside corner a little too early, which put too much pressure on my legs at one point."
A day later, the imbalance in the outer corner came as a big surprise. "I was fine in it, did not realize that something was about to happen. But suddenly I almost fell," says Otterspeer. "It was almost in the same place as Friday. In that part of the corner the resurfacing machine comes onto the track and the ice is not completely flat. Maybe that's why I missed some grip at 60 kilometers per hour."
The experienced skater does not think that nerves have played tricks on him. "My focus and preparation were the same as last week at the NK sprint. Then I was also at the top halfway through and I eventually won."
"It is absolutely not the case that I was now stiff with nerves at the start and therefore made mistakes. It just happened at a strange moment in the stage, where I should have everything under control. It is very annoying that I crucial loss of time. As good as it went at the NK, it's that shit right now."
Beeld: Getty Images
---
Read more about:
SkatingHein OtterspeerEK sprint
---
---
---
---