Netflix's strategies for canceling and extending series seem, more than ever, incomprehensible lately. The most popular series with the highest ratings are brutally put aside by the streaming service, while other, lesser, productions are given the green light for a new season. 1899 (2022) is one of the series that was said goodbye much to the dismay of fans. Although Netflix did not explain the reason for the cancellation, there is now a theory about it.
The completion percentage
According to the American business magazine Forbes, the easiest way to predict whether a Netflix series will be renewed or not is to look at the completion rate. The completion rate shows what percentage of viewers actually watched the series up to and including the last episode. Netflix would only renew a series if more than 50% have watched the series.
Netflix doesn't publicly disclose the completion rate, but according to data analytics company Digital i, the 1899 rate was only 32%, not sufficient for renewal. The same company also believes it has the figures of some competing Netflix productions.
Series with a difficult start
It seems like a logical and watertight system. If only 32% of the viewers of 1899 have seen all episodes of the series, at most that same percentage will return for a second season. However, history has proven otherwise. Some of the most successful series of all time have taken several seasons to find a large audience. Examples of this are The Office (2005–2013), Breaking Bad (2008–2013) in Parks and Recreation (2009–2015). These series did not perform as well as initially hoped, but after some adjustments, they have become some of the most successful sitcoms ever. Unfortunately, due to the cancellation of many Netflix series including 1899, we will never know if they might have eventually followed the same path as these stunners.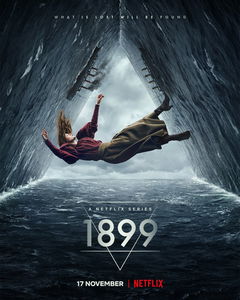 7.4 Watch on Netflix • The series '1899' is set during the journey of a migrant ship from Europe to New York. Even though the passengers come from different backgrounds and nationalities, they all share the same dreams and hope for a better future abroad.
Image: Still '1899' via Netflix
---