When director James Cameron received his Oscar for Titanic (1997) received, he was over the moon. Recently, during an interview about his latest film Avatar: The Way of Water (2022), speech came up in which Cameron enthusiastically quoted his own film: 'I am the king of the world!'. The filmmaker received quite a bit of criticism after this funny slogan. Now he apologizes and even learned an important rule.
An awkward moment
Cameron admits it was an awkward moment in retrospect, but he also explains why he yelled this:
I tried to express the joy and excitement I felt about the movie and the most joyful moment for Jack's character (…) I was having a hard time.

James Cameron
Titanic took off with no less than 11 victories that night. With 11 Oscars, this is a shared record with Ben-How (1959) in The Lord of the Rings: The Return of the King (2003). Titanic won the Oscars for best picture, best director, best cinematography and best music, among others.
No arrogance
What I've learned is that you don't quote your own movie when you win, because that's awkward. It was like I assumed we had won big and that everyone in the audience had seen and loved Titanic. We'll never know if we won big, maybe it wasn't such a huge win after all. I was criticized for 25 years, but you know, you live and you learn. The arrogance that was interpreted was actually not in my head.

James Cameron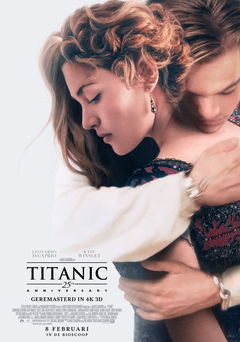 7.9
Rose (Kate Winslet) is a young, wealthy woman trapped in a stifling world with an arrogant husband.
Titanic rotates from February 8th again in the cinema.
---