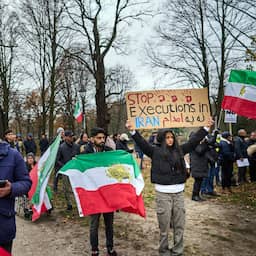 ---
Jan 07, 2023 at 4:33 PM Update: 8 hours ago
On Saturday morning, two young men were hanged in Iran for their part in the country's large-scale protests. In response to the executions, Foreign Minister Wopke Hoekstra again summoned the Iranian ambassador. Dozens of demonstrators came to the Ministry of Foreign Affairs in The Hague to protest against the executions.
Hoekstra tweets that all EU member states must do the same. The Dutch government also summoned the Iranian ambassador last month after demonstrators were put to death. Hoekstra points out that new sanctions against the Iranian regime are being prepared in a European context. "Today's actions call for an even stronger response from the EU," said the minister.
On Friday, a number of parliamentary parties from both the coalition and the opposition called on the Dutch government to lead the way in Europe in taking measures against the Iranian regime. Hoekstra agrees with these party leaders, he stated in a written response. As far as he is concerned, the Netherlands, together with other countries, will indeed "keep up the pressure on Iran".
In response to the executions, several dozen demonstrators came to the Ministry of Foreign Affairs in The Hague on Saturday. They shouted slogans like: "Stop executions in Iran" and "Khamenei killer".
Thousands arrested and hundreds killed in Iran
Mass demonstrations have been taking place in Iran since mid-September for more freedom and against the regime in Tehran. Thousands of people have been arrested in these protests, which the authorities see as riots.
According to the human rights organization HRANA, more than 500 demonstrators have died during the protests, including 70 minors. 68 members of the security services are also said to have been killed.
Amnesty International reported last month that at least 26 people have been sentenced to death in Iran for participating in the protests. The human rights organization calls those convictions the result of "sham trials designed to intimidate protesters".
The wave of protests is the largest in years for Iran and started after the death of 22-year-old Mahsa Amini. The woman of Kurdish descent died after being arrested by the moral police for allegedly not wearing her hijab properly.
Confessions obtained after coercion and torture
The 20-year-old coach and 22-year-old karate champion who were hanged on Saturday morning were, according to the Iranian authorities, involved in the murder of a soldier during a demonstration in the country.
According to Amnesty International, a court in Iran has sentenced 22-year-old karate champion Mohammad Mehdi Karami after he was coerced into making a confession.
The lawyer for 20-year-old Seyyed Mohammad Hosseini tweeted on December 18 that Hosseini had been severely tortured. He was allegedly tied up, beaten and electrocuted, among other things. The Iranian authorities deny this.
Image: ANP
---
Read more about:
IranBuitenlandSpanningen Iran
---
---
---
---