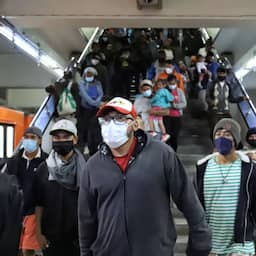 At least 57 people were injured on Saturday when two subway trains collided in a subway tunnel in Mexico City. At least one person, a young woman, was killed in the accident.
According to the mayor of the Mexican capital, Claudia Sheinbaum, the 57 injured have been taken to hospital. Several people would be in bad shape, including a conductor.
The collision took place in a tunnel between Potrero and La Raza metro stations. It is not yet clear how the accident happened. Mexican President Andrés Manuel López Obrador has expressed support for the victims on Twitter.
Subway accidents are more common in the Mexican capital. In May 2021, a subway accident killed 26 people there. A train set fell meters down when a bridge collapsed. An investigation revealed that the accident was caused by construction defects and maintenance issues, including failure to carry out routine inspections.
---
---