In a recent interview with BigBoyTV, rapper 50 Cent revealed that he is working with fellow rapper Eminem on a series based on the Oscar-winning film 8 Mile (2002). The project would have been underway for some time.
Eminem's story
In 8 Mile, young Eminem plays the role of Jimmy, a rapper trying to make it in the dark streets of Detroit. The film is semi-autobiographical and therefore contains many plot points that resemble Eminem's real life. The title refers to the place where the film is set, 8 Mile is the highway divide in Detroit that divides the city into the white suburbs and the black ghettos. In addition to Eminem, Kim Basinger, Brittany Murphy and Michael Shannon can also be seen in the film.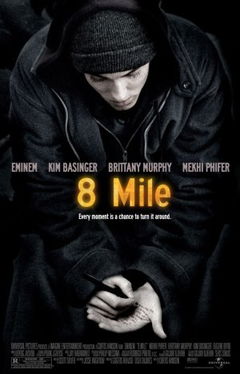 7.2 Watch on Netflix • Set in 1995, '8 Mile' depicts a week in the lives of a group of Detroit youths and their struggle to survive.
It's getting big. I'm working. It won't fail. I'm going for 100%. I want to be able to show and tell more details.

50 Cent
The unforgettable hit Lose Yourself
8 Mile won the Oscar for Best Music Written Specifically for a Motion Picture. It is about the hit Lose Yourself performed by Eminem himself. The rapper was not present at the ceremony at the time, because he did not think he would stand a chance. It came as a surprise that the movie audience appreciated his hit so much and the rapper was sorry that he wasn't there, but stayed in his bed instead. Seventeen years later, at the 92nd Academy Awards, the rapper got a rematch, performing his song Lose Yourself and the crowd went wild.
---