---
Jan 07, 2023 at 8:03 PMUpdate: 20 minutes ago
Juventus continued their winning streak in Serie A on Saturday. The team of coach Massimiliano Allegri narrowly won against Udinese at home thanks to a late goal from Danilo: 1-0. Internazionale lost two points in stoppage time against Monza (2-2).
Juventus seemed to be heading for the first loss of points in eight league matches, but Danilo still secured the victory. The defender worked the ball into the net from close range after a good assumption and good cross from Federico Chiesa.
Udinese, with substitute Kingsley Ehizibue, created quite a few opportunities to score. However, Juventus goalkeeper Wojciech Szczesny kept his goal clean, including an attempt by Walace.
World champion Ángel Di María made his comeback at Juventus. The 34-year-old Argentinian occasionally created danger with good preparatory work at opportunities from Moise Kean. Midway through the second half, he was substituted for Milik.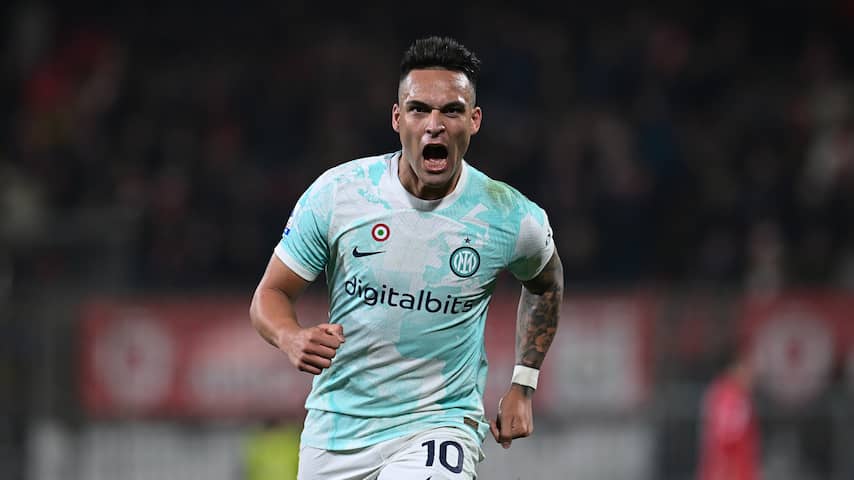 Lautaro Martinez celebrates his 1-2. Photo: Getty Images
Caldirola plunges Inter into mourning
Inter had a lot of trouble with number fifteen Monza. Matteo Darmian, who had referred Denzel Dumfries to the bench, opened the scoring after ten minutes. Patrick Ciurria immediately took care of the equalizer with a nice long shot.
Lautaro Martínez took the lead again halfway through the first half. The world champion benefited from fumbling in the back at Monza: 1-2. Inter still collected the equalizer from Luca Caldirola in injury time.
Dumfries, who is associated with a winter transfer, came in ten minutes before time. Stefan de Vrij remained on the bench for the entire match.
Juventus remains close to Napoli through the victory. Inter is already seven points behind the club from Naples, which will play against Sampdoria on Sunday. Number three AC Milan will then compete against AS Roma.
Top 5 Serie A
1. Naples 16-41 (+24)2. Juventus 17-37 (+19)3. AC Milan 16-36 (+15)4. Inter 17-34 (+13)5. Lazio 16-30 (+14)
View the results, the position and the program in Serie A
Beeld: Getty Images
---
Read more about:
udineseJuventusSerie AFootball
---
---
---
---