Nov 24, 2022 at 7:59 PMUpdate: 6 hours ago
England and Wales are also waiving a protest against the ban on wearing the OneLove captain's armband at the World Cup in Qatar. Both the English national coach Gareth Southgate and Rob Page, his colleague at Wales, want the players to focus on the sporting aspect.
"I'm sure Germany would have wanted to do the same in retrospect," Page said Thursday. The players of the German national team demonstrated on Wednesday just before the game against Japan against FIFA's decision to give a yellow card to players who would wear the much-discussed band. The Germans demonstratively held a hand to their mouths at the team photo, after which they surprisingly lost 2-1 to Japan.
"We were not happy that we couldn't wear the band," said Wales star player Gareth Bale. "I know people said I should have worn it despite the announced sanction, but then I would have been sent off after 25 minutes. We are here to play football." Bale received a yellow card against the United States (1-1) early on.
Southgate is afraid of having to outdo Germany's action or the "brilliant" video recorded by the Australian team with criticism. "And then we can make a mistake, so the message is wrong. Maybe we will do something later, but then the timing has to be right. Now we focus on the game."
Follow the World Cup update
Get notified every day with tomorrow's matchesStay informed with notifications
The Dutch national team will also not send a signal to FIFA on Friday just before the second group match at the World Cup against Ecuador. "We have put an end to all political issues after inviting migrant workers to our training last week," national coach Louis van Gaal said earlier on Thursday.
Together with the captains of Germany, England, Wales, Belgium, Switzerland and Denmark, the Orange in Qatar planned to wear the special band to promote inclusion. That plan fell through after the threat from FIFA.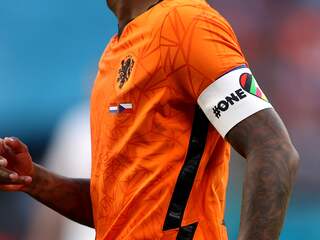 See alsoCriticism of KNVB attitude in Qatar: 'Germans do have the balls to do something'
Image: Getty Images
Read more about:
Gareth SouthgateEngland teamWelsh national teamLGBTQ+Footballfootball world cup
---