The annual The Game Awards will be presented on December 8, 2022. How is Xbox doing?
While Xbox managed to get the most nominations in 2021 and received the best reviews, 2022 has turned out to be a relatively quiet year. Major titles such as Starfield and Redfall have been postponed to 2023. Despite the mediocre year, Xbox manages to run well. For months Microsoft managed to sell the most consoles and with 29 million Game Pass subscribers, the Xbox subscription model is the most successful worldwide. We also see the latter in the nominations, but more on that in a moment. Let's first take a look at the nominations in the most important category, which is Game of The Year.
Game Of The Year 2022
The nominees for the coveted award are:
A Plague Tale: Requiem (XBNL review)Elden Ring (XBNL review)God of War: RagnarökHorizon Forbidden WestStrayXenoblade Chronicles 3
There are six top titles in the row and it will therefore be a very exciting battle. It would be fantastic if the Dutch studio behind Horizon Forbidden West takes off with the GOTY Award. Whether she will succeed in doing so, however, remains to be seen. The game was completely snowed under by the very successful Elden Ring around release. I think Elden Ring is the strongest contender. There is broad consensus on both the game's success and quality. Reason for doubt could be that the recently launched God of War: Ragnarök is still fresh in the minds of the players. The other three games, no matter how good, I consider completely hopeless. Well, I like to be surprised.
Games from the Xbox Game Pass
It goes too far to discuss all nominees from all 31 categories here. In our weekly podcast, we will be able to consider it in more detail. If you are still curious about a complete overview, you can do this here find. What I do want to reflect on is the success of the Xbox Game Pass. Now no one needs to be convinced anymore. Microsoft delivers quality and quantity with the Xbox Game Pass. And that is also evident from the large number of nominations that Xbox Game Pass games manage to win.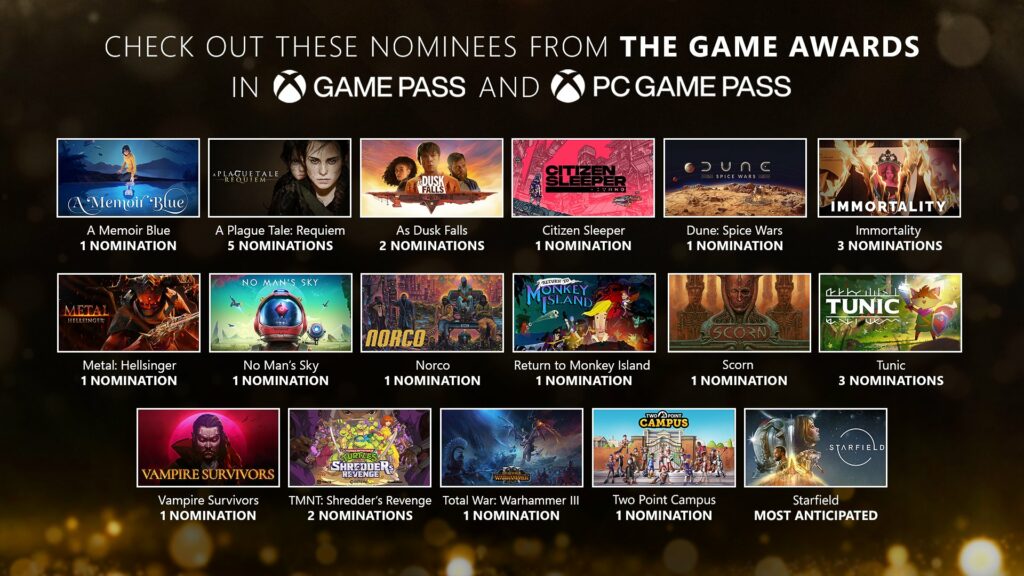 The number of nominations is staggering, with A Plague Tale: Requiem, As Dusk Falls, Immortality and Tunic being the most notable for being nominated in multiple categories. Personally I would give As Dusk Falls an Award. The way of storytelling has proven to be innovative and the story itself very strong.
XBNL Awards
In the end, The Game Awards are of course nice and nice, but the majority of gamers look forward to the XBNL awards with longing. In 2021 you voted for the best games. You can of course do that again in 2022. When? I'd say keep an eye on the website and our Discord!
---