Aquaman star Jason Momoa shows a new side in Slumberland (2022). The brand new fantasy film has been on Netflix since last week and manages to surprise viewers: "Top 5 best film of the year," it even sounds.
Other useful Netflix pages:
'What a nice movie'
The fantasy film for the whole family has now reached the top spot in the top 10 on Netflix, which means that the brand new Original is being watched en masse. On Twitter, viewers express their satisfaction with Slumberland: "Entertaining, beautiful, emotional and funny". There are also requests for a sequel. Will Netflix see any more in this?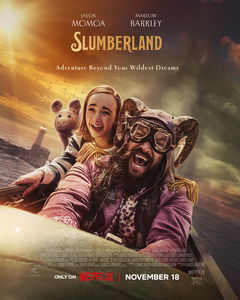 6.7 Watch on Netflix • After Nemo's (Marlow Barkley) father Peter (Kyle Chandler) suddenly goes missing at sea, her whole life is turned upside down.
Nemo to dreamland
Slumberland is a dream world where Nemo (Marlow Barkley) and her eccentric companion Flip (Jason Momoa) embark on the adventure of a lifetime. After her father Peter (Kyle Chandler) is unexpectedly lost at sea, Nemo's idyllic existence in the Pacific Northwest is turned upside down when she is sent to town with her well-meaning but very clumsy uncle Phillip (Chris O'Dowd).
Her new school and routine are challenging during the day, but at night a secret map to the fantastical world of Slumberland links Nemo to Flip, a rough but lovable outlaw who soon becomes her partner and guide. She and Flip soon embark on an incredible journey through dreams and nightmares, with Nemo beginning to hope that she will be reunited with her father.
Image: Still 'Slumberland' via Netflix
---