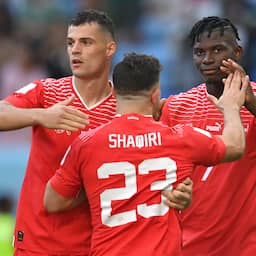 Breel Embolo, born in Cameroon, helped Switzerland to a 1-0 win over 'De Ontembare Leeuwen' on Thursday afternoon during the group stage at the World Cup. For the 25-year-old AS Monaco striker, a weight has been lifted from his shoulders.
In the run-up to the World Cup, Switzerland often talked about the special meeting for Embolo, which saw the light of day on February 14, 1997 in the Cameroonian capital Yaoundé.
When his parents divorced, Embolo moved to France with his mother as a toddler, eventually ending up in Basel. His mother had started a relationship with a Swiss.
"I am extremely proud, this is a dream come true. For the first time I am accurate at a World Cup and then also against Cameroon," Embolo said in conversation with the Swiss television channel SRF. "It has been so long about this match. This provides a lot of relief. I wish Cameroon nothing but good."
The attacker, who refused to cheer after his goal, saw Switzerland make many mistakes at the end of the first half. "We converted some things during the break. That helped, because we had good opportunities."
Switzerland, together with France the only country that has always survived the group stage at a European Championship or World Cup since the 2014 World Cup, will continue the World Cup on Monday with a match against five-time world champions Brazil. The organizer of the 1954 World Cup closes the first round on December 2 with a duel with Serbia.
---