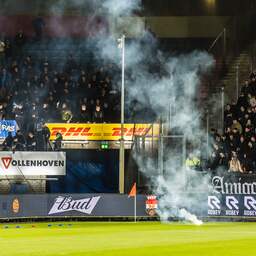 07 Oct 2022 at 21:43Update: 14 minutes ago
The Brabant derby between Willem II and FC Den Bosch in the Kitchen Champion Division was shut down twice on Friday due to the repeated throwing of fireworks. The match, which started at 8 p.m., will be resumed without Den Bosch supporters in the Koning Willem II Stadium.
By our sports editors
Referee Martin Pérez decided to temporarily suspend the derby on Friday evening after more than fifteen minutes of play. In addition to throwing fireworks, there were some FC Den Bosch fans who broke out of the visitors' section.
After the first strike, the players returned to the field to resume the game. Shortly afterwards, the teams again left for the locker room due to unrest. The FC Den Bosch supporters have been removed from the visitors' section by the riot police. The match resumed at 9:44 PM with no away fans.
Den Bosch led 1-0 in the abandoned game thanks to an early goal from Faris Hammouti. When the FC Den Bosch players celebrated that goal with their fans in the branch, cups of beer were thrown at the players by Willem II supporters. One of them came on the head of FC Den Bosch striker Danny Verbeek. The attacker from Den Bosch was able to continue playing.
More than fifteen minutes later a piece of fireworks was thrown onto the field. Willem II keeper Kostas Lamprou quickly threw the burning fireworks outside the lines, but Pérez decided to stop the game.
It also went wrong in other Brabant derby
In September FC Den Bosch-TOP Oss was also marred by disturbances in the stands. Fights broke out between the two supporter groups, the police and the riot police. Several flight attendants and officers were injured. One of the security guards was taken to hospital with serious injuries.
In consultation with the municipalities, the police and the KNVB, among others, it has been decided that no public will be welcome at matches between FC Den Bosch and TOP Oss for the next three years.
Image: Pro Shots
Read more about:
William IIFC Den BoschKitchen Champion Division
---