After the first photos are now also the first moving images of the last season of His Dark Materials (2019– ) on display. The footage was already shown at New York Comic Con last Thursday, but now the trailer is available online for everyone to watch.
In the third season, Lord Asriel, played by James McAvoy, will return after being almost completely absent in the second season. Asriel builds an army including witches and rebellious angels to take out the authority, essentially God. In the trailer, we hear him explain that he gathers the best from each world to aid him in his war. "We'll chop off the head and the rest will crumble."
McAvoy has strongly criticized his character Lord Asriel:
Asriel is a jerk and a bad father. He's doing it for the right reasons, but he's doing it all the wrong way. The destination is more important to him than the journey. The end justifies the means for him. He is a leader, a world changer, a thinker and a doer, all before he is a father.

James McAvoy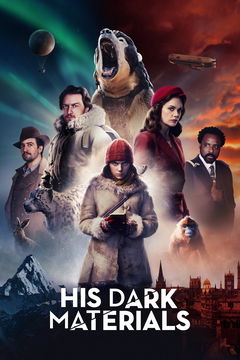 7.8
His Dark Materials (2019– )
Watch HBO Max • 'His Dark Materials' is set in an alternate world where all humans have animal companions called daemons, who are the manifestation of the human soul.
The first two episodes of the third season of His Dark Materials are on 5th of December seen on HBO Max.
Image: Still 'His Dark Materials' via TMDb
Text: HBO Max
---