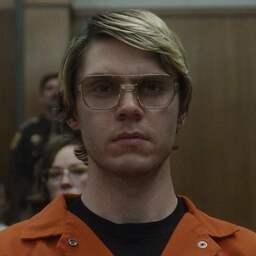 07 Oct 2022 at 13:56
Every week, Netflix further expands its offer with new series and movies. With this week: Uncharted, Netflix's version of Wie is de Mol? and another Jeffrey Dahmer documentary series.
Series
Conversations with a Killer: The Jeffrey Dahmer Tapes (season 1)
The creators of the 'tapes' series about serial killers John Wayne Gacy and Ted Bundy now come up with The Jeffrey Dahmer Tapes. In this documentary series, Dahmer – recently the subject of a controversial Netflix drama series – confesses his atrocities in a selection of 32 hours of recorded conversations with his lawyer. For this series, all other people involved – from journalists to detectives – were interviewed.
The Mole (season 1)
The American version of the Flemish format De Mol, which we know in the Netherlands as Wie is de Mol?, was silent for a while. Now Netflix comes with a new version of the reality program. Just like in the Belgian version, a group of strangers goes on a journey together, they carry out assignments to earn money and there is a mole in their midst who tries to sabotage it.
The Midnight Club (season 1)
Creator Mike Flanagan is back with a new horror series after The Haunting of Hill House and Midnight Mass. The Midnight Club is set in a nursing home for terminally ill young people. There, eight patients gather at midnight every day to tell each other scary stories. This spirals out of control when they make a supernatural pact.
Movies
Cast Away (2000)
In this well-known classic, Chuck Nolan (Tom Hanks) ends up on a desert island after his plane crashes. He waits months for help, but no one shows up. Then Chuck realizes he's on his own. Together with his imaginary friend, the volleyball Wilson, he tries to survive and not go completely crazy.
Death at a Funeral (2010)
At Aaron and Ryan's father's funeral, a stranger suddenly appears who claims to be their late father's secret love. Then everything goes wrong at the funeral. This is an American remake of the 2007 British comedy of the same name.
The Terminal (2004)
This film is based on the true story of Mehran Karimi Nasseri, an Iranian refugee who lived in Hall 1 of Paris Charles de Gaulle Airport for over fifteen years. In The Terminal, it is Viktor Navorski (Hanks) who loses his visa after a revolution broke out in his homeland. This puts him between the loopholes of the law and leaves him without a nationality.
World War Z (2013)
When a virus turns people into zombies, Gerry Lane (Brad Pitt) struggles to find an antidote. The former United Nations researcher travels the world to save humanity and his family.
Uncharted (2022)
The main character of the PlayStation game Uncharted, Nathan Drake (Tom Holland), is brought to the silver screen in this film. Nathan and Victor Sullivan (Mark Wahlberg) go in search of the lost treasure of Ferdinand Magellan. The film has already grossed 400 million dollars (about 408 million euros) worldwide.
Luckiest Girl Alive (2022)
This Netflix film is based on Jessica Knoll's bestseller of the same name. Ani Fanelli (Mila Kunis) is about to become an editor at The New York Times and within six weeks she will be married to Luke Harrison (Finn Wittrock). Her life seems good, until a documentary filmmaker uses the events at Ani's old school as the subject of his film, thereby also investigating Ani's traumatic past.
These films and series also appeared on Netflix this week
October 1
Insidious (2010)
The Swan Princess (1994)
Clueless (1995)
Friday the 13th (2009)
Felon (2008)
Scary Movie (2000)
Scary Movie 2 (2001)
Scary Movie 3 (2003)
Paranormal Activity 3 (2011)
The Other Guys (2010)
Downsizing (2017)
sing (2016)
Just Like Heaven (2005)
Ten Dollar Death Trip – Into the Fentanyl Crisis (2020)
Terres Barcelo (2018)
The Name of the Game (2018)
The Scandalous Four (2015)
Transition (2018)
LEGO Ninjago (season 6)
October 2nd
Siempre Reinas (season 1)
October 3
Freedom Writers (2007)
The Italian Job (2003)
Snow White and the Huntsman (2012)
Chip and Potato (season 4)
Fool's Rush In (1997)
The Amityville Horror (2005)
Trapped (2002)
4 October
Hasan Minjah: The King's Jester (2022)
Halloween (2007)
5th of October
Bling Empire (season 3)
Togo (2022)
Per Lanciarsi Dalle Stelle (2022)
mr. Harrigan's Phone (2022)
The Trapped 13: How We Survived The Thai Cave (2022)
Nailed It! (season 7)
Wielka Woda (season 1)
October 6
Aftershock: Everest and the Nepal Earthquake (2022)
The Joys and Sorrows of Young Yuguo (2022)
Aftershock: Everest and the Nepal Earthquake (2022)
October 7
Derry Girls (season 3)
Glitch (season 1)
The Last Black Man in San Francisco (2019)
Oddballs (season 1)
Dollhouse (2022)
Old People (2022)
Kev Adams: The Real Me (2022)
Andropoz (season 1)
The Redeem Team (2022)
Tiger & Bunny (season 2)
Image: Netflix
Read more about:
Movies & SeriesMedia and CultureNew on streaming services
---