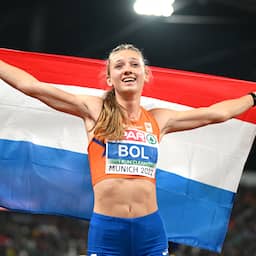 Femke Bol is one of the last three contenders for the European athlete of the year prize. This is apparent from the shortlist that was announced on Friday by the athletics federation.
The 22-year-old Bol will compete in the election against the Belgian heptathlon star Nafissatou Thiam and the Ukrainian high jumper Yaroslava Mahuchich. They were already on a shortlist of ten names in mid-September, after which the public, affiliated federations, media and experts could vote.
Bol became European champion in August in Munich in the 400 meters, the 400 meters hurdles and the 4×400 meter relay. A month earlier, the Dutch top talent conquered silver in the 400 meters hurdles at the World Cup in Eugene.
The 28-year-old Thiam became European champion heptathlon in Munich and won the gold medal at the World Cup. The 21-year-old Mahuchich grabbed the world indoor high jump title this year, captured silver at the World Cup and was crowned European champion.
The winner will be announced on October 22 during the Golden Track awards in Tallinn, Estonia. Sifan Hassan received the award last year after her two gold medals at the Tokyo Olympics.
---