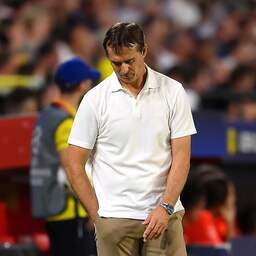 Sevilla said goodbye to trainer Julen Lopetegui on Wednesday evening. The Spanish club did this half an hour after the end of the Champions League match against Borussia Dortmund, lost 1-4.
Lopetegui, 56, has been at the helm of Sevilla since 2019. In 2020, the Europa League was still won, but this season the results were disappointing. Sevilla is in an embarrassing seventeenth place in La Liga and the performances in the Champions League are also nothing to write home about.
The 1-4 defeat at home against Dortmund was apparently the last straw for the board. Exactly 31 minutes after the final whistle, the Spanish coach's resignation was announced. There was even a farewell film ready, which gives the impression that it was by no means an ad hoc decision.
Former goalkeeper Lopetegui had an appealing resume before joining Sevilla in 2019. He was in charge of FC Porto, briefly coached Real Madrid and acted as head coach of the Spanish national team for two years.
---