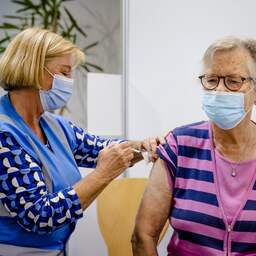 The Novavax vaccine should not be the first choice for the repeat shot against corona, advises the Health Council. The European Medicines Agency (EMA) has previously assessed this vaccine as a basic shot positively. But it is not certain whether it protects sufficiently as a repeat injection in the event of an infection with the omikron variant. Preference is therefore given to mRNA vaccines, such as those from Moderna or Pfizer.
The advice applies to both adults and young people aged twelve to seventeen.
It has previously been shown that mRNA vaccines as a repeat shot provide better protection against severe COVID-19. There are currently enough of these vaccines in stock to be able to do the repeat shots.
The Health Council states that Novavax's protein vaccine is 'safe enough', but that there are doubts about its effectiveness as a repeat shot. The council also says that the vaccine is likely to protect young people against severe COVID-19 from omikron infection, if Novavax has been used as the first shot. However, the council emphasizes that the data is "still limited".
However, the Novavax vaccine can be used as an alternative. For example, if people prefer not to have an mRNA vaccination or if they had an allergic reaction to these vaccines.
---