The reality series universe Bling Empire (2021– ) will be expanded further. On the day the new third season can be streamed on Netflix, we can also look forward to a spin-off, which will take place in New York.
The new Kardashians?
When the trailer for the original first season was shared, Bling Empire immediately evoked associations with the long-running reality series Keeping Up with the Kardashians (2007–2021), which was also created by the man whose company (Jeff Jenkins Productions) is also responsible for this new series. In Bling Empire, also described as a real-life Crazy Rich Asians, we follow a group of wealthy friends of Asian-American descent who lead a glamorous life in the metropolis of Los Angeles.
Dutch contribution
The third season, which is said to be streaming on Netflix from today, anticipates a spin-off to be released later, which will move the drama to New York. One of the names that has already been confirmed is that of Dorothy Wang, who already appeared in the second season of the series. Bling Empire: New York is made by the same company that also realized the original series, where it is also striking that the Dutchman Reinout Oerlemans (A woman comes to the doctor, Nova Zembla) also acts as producer.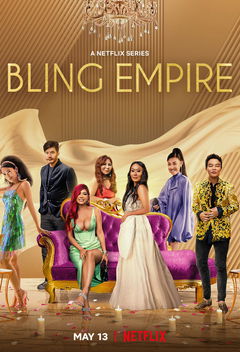 5.8 Watch on Netflix • 'Bling Empire' follows a wealthy group of Asian and Asian American friends (and foes) in Los Angeles whose nights are filled with fantastic parties and expensive purchases.
teaser
It is still waiting for a release date of the spin-off, but Netflix already published the teaser of the first season yesterday, which you can watch below.
Image: Still 'Bling Empire' via Netflix
---