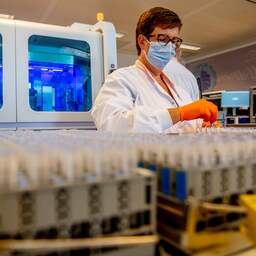 77 percent of blood donors have now been infected with the corona virus. Sanquin reports this on the basis of the latest measurement among 2,000 Dutch donors. At the end of 2021, Sanquin counted that one in five people had been infected.
Among young people between the ages of 18 and 25, 90 percent have been infected. This applies to 59 percent of the over-70s.
According to Hans Zaaijer, head of Blood Transmitted Infections at Sanquin, the contagious omikron variant is the reason so many people have contracted corona. "Omikron has given the world a helping hand. This variant appears to be more contagious, but also less sickening. For example, we trained our immune system in a relatively mild way last summer," says Zaaijer.
Zaaijer is therefore optimistic about the winter. Thanks to boosters and (re)infections, older donors have higher amounts of antibodies against corona. "You can expect more moments of infection in the coming months if people gather in warmer and closed spaces. It helps if you already have antibodies."
Zaaijer still calls the new booster campaign useful. "At least 40 percent of blood donors over the age of 70 have not yet experienced an infection. They, together with risk groups, benefit from a new vaccination."
Blood donors are on average slightly healthier
Dutch blood donors are not fully representative of the Dutch population, Sanquin reports. "Donors are somewhat healthier than average," Zaaijer told TV program Atlas on Wednesday evening. "On the other hand, if donors live more cautiously, the true number of infections is likely to be even higher than 4 in 5."
It is Sanquin's fifth study into antibodies against corona. The study was conducted between the end of August and the beginning of September among 2,000 blood donors throughout the Netherlands.
---