Versatile actress Cate Blanchett can just embody evil in a superhero movie and then return to star in a serious festival drama. In the trailer of tar (2022) she shines as the conductor of a large orchestra.
Time bomb in the workplace
The film follows Lydia Tár, the first female leader to take charge of a renowned German symphony orchestra (represented on the recordings by the Dresden Philharmonic) and who has great ambitions to conduct the perfect performance. Behind the musical success there appears to be an enormous pressure to perform, conflicts in her teaching tasks and tense power relations, which completely turn Tár's life upside down and gradually make it impossible for her to work. Especially when a promising cellist (played by Sophie Kauer) joins the orchestra and draws all the attention to herself.
Awarded in Venice
Tár premiered at the Venice Film Festival, where the film received much praise and most compliments went to Blanchett, who was awarded the prize for best actress on the closing day. The director is Todd Field, who you might know from his earlier dramas In the Bedroom (2001) and Little Children (2006) (with Kate Winslet and Patrick Wilson).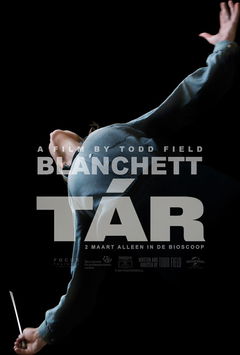 7.8
'Tár' follows Lydia Tar, the very first female chief conductor of a major German orchestra.
Patience required
The Dutch release is planned for March 2, 2023, so unfortunately you have to be patient for a while to watch the film here. Reason enough to put it on your watch list.
Image: Still 'Tár' via TMDb
---