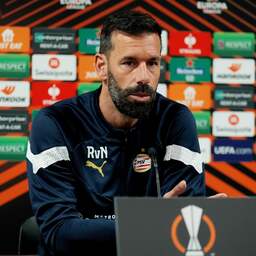 05 Oct 2022 at 21:37Update: 40 minutes ago
PSV would like to focus entirely on the Europa League match with FC Zurich, but thoughts often go back to Saturday. "We have to put the head right and play a nice game," said coach Ruud van Nistelrooij at the press conference on Wednesday.
By our sports editors
PSV lost 3-0 on Saturday at Cambuur, a club from which the Eindhoven team had never lost. Van Nistelrooij regards this historic punishment as an incident. "I don't know my team that way. Every team runs into a bug every year, even if it shouldn't happen. But it does happen."
The next test awaits PSV with the match in Zurich on Thursday, which did not start too convincingly in the Europa League. At home against FK Bodø/Glimt there was a disappointing draw, after which the team from Brabant did not get the chance to take revenge. The Arsenal meeting was postponed due to the death of Queen Elizabeth.
"We just have to get the best out of ourselves on Thursday", Van Nistelrooij looked ahead to the duel with Zurich. "It's about what we bring. I don't see it easily at all. We should not underestimate an opponent. We have felt the pain of that very recently."
'We must respond now'
"We have to put our heads right and play a nice game", Van Nistelrooij advised his players. "We have to react now. This match is an excellent opportunity, but we have to show it."
FC Zurich-PSV will be kicked off on Thursday at 6.45 pm. The match is led by Scottish referee William Collum.
Image: Getty Images
Read more about:
PSVEuropa League
---