Slime Rancher 2 was released last week. The game is in preview and has been added to Xbox Game Pass. The XBNL editors asked community member YazNL for his first impressions.
Beatrix, our genteel slime-hunting lady, is back. After she had almost finished her business on Far Far Ranche, she kept on exploring and moved to Rainbow Island to start all over again. In this preview we look at the current state of the game which is currently available in Early Access. Early Access means the game isn't finished yet. Not all slimes, areas and abilities are in the game yet. Regularly the game will get an update which will add something new. What is there to do so far?
The Conservatory
Where you started in Slime Rancher 1 on a farm that you took over, in part 2 you will find a so-called conservatory, a building that mainly consists of glass. The surprising thing is that someone else in this building had the same idea as you, namely the Slimes farmers. In this building there are already the necessary cages, all you have to do now is catch a few of those Slimes and you can start.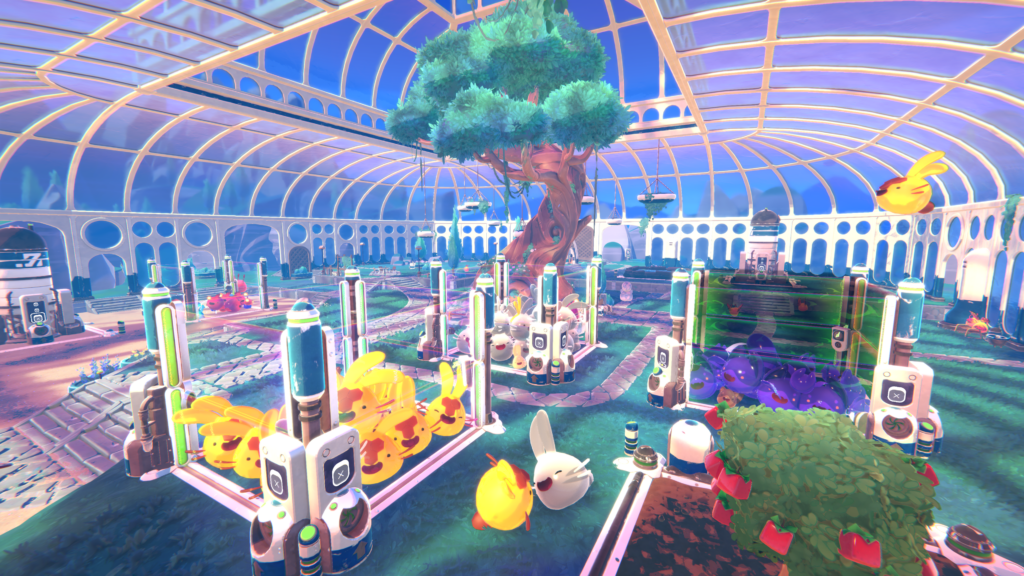 Slimes are the only inhabitants of this island. They are cheerful, cute and hop around a bit. The first slimes you find are the pink slimes that you hopefully already know from part 1. But you also immediately see a new type of slime, the Cotton Slime. A slime with big bunny ears. Quickly you catch a few with your Vacpack "gun", also pick up some carrots and maybe one of those yummy Cuberry and take them back to your farm.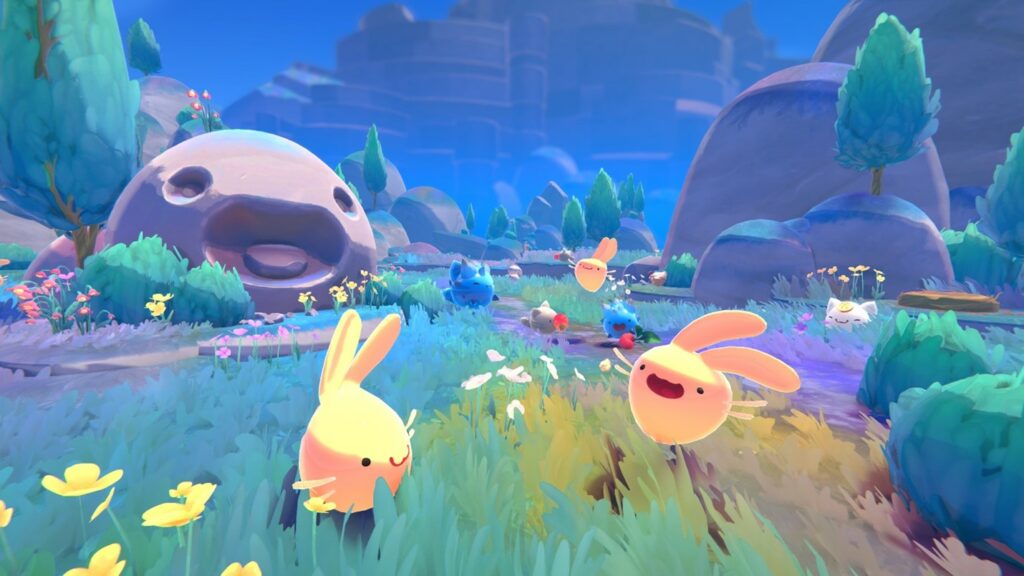 To make money
You can make money with Slimes by feeding them something they like. There are slimes that will eat anything and have no particular preference for anything like the Pink Slime. The Cotton Slime, on the other hand, only eats vegetables with a tasty head of lettuce as a preference. If you feed a slime something they like, they immediately "poop" out a Plort. Give them their preferred food and they will defecate two Plorts. A Plort is a gem that you can sell on the Plort Market and that is your way of making money.
Now you don't have a lot of lofts in the beginning. And some lofts you also have to use to grow food because Slimes eat a lot. Fortunately, to save some space, you can combine slimes. Feed a Pink Slime the Plort of a Cotton Slime and it turns into a Pink Cotton Slime Largo! This has the advantage that you only need one loft instead of two. You can do this with any slime in any combination you want. But beware. If you give a Largo (an already combined slime) a plort of another slime, it turns into a Tarr slime. Tarr slimes are terrible. They directly attack other slimes to turn them into Tarr slimes as well. If you let these slimes rage in your farm you will lose all your slimes in no time and you can start all over again.
Discover and invent
A Pink Slime and a Cotton Slime are of course not the only slimes that can be found. Their Plorts aren't worth that much either. So you quickly go on a journey of discovery to find more exclusive slimes. The island is big, very big, and slimes abound. When you start, your Vacpack only has 4 pockets to keep something in. These can be slimes or materials such as Radiant Ore or Buzz Wax. These materials are rare and you will need them to create or improve new parts for your Vacpack. So you quickly have to make the choice whether to take that new slime or that rare material. Fortunately, you can upgrade the Vacpack to give you more space to store things, but you can also choose to connect a Jetpack to it so that you can reach areas you couldn't reach before. And besides your Vacpack you also have to invent other things like a water cannon which protect you against the Tarr slimes. Or a Market Link that allows you to immediately sell plorts you find on the island without having to go back to your base first.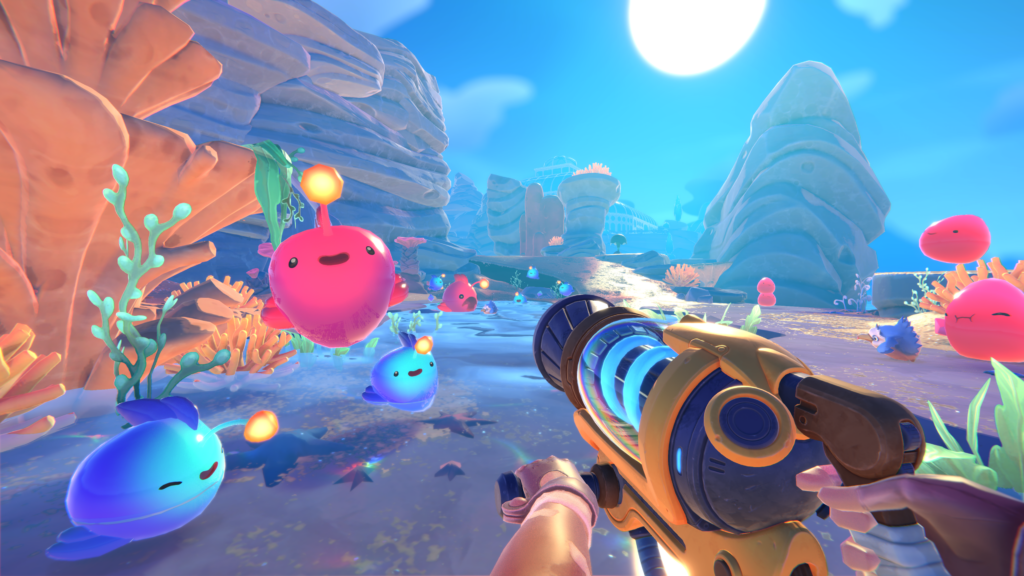 An island full of secrets
You soon find out that someone has been here before. Logical because who else built that beautiful conservatory. But what happened to that previous owner? The more you explore, the more you'll learn about it. You will also find all locked doors with a statue of a Slime with glowing eyes nearby. Are those two in a relationship? What's behind that door? And those islands in the distance, how do you get there? And what about those huge slimes? They look hungry but can't seem to find food on their own because of their size.
So there is plenty to discover and do. The big reveal of all the secrets will only come once the game is launched probably in a year. Until then, there is already plenty to do and new opportunities will be added regularly.
---