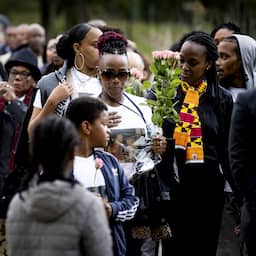 The Bijlmer air disaster was commemorated in the Bijlmer in Amsterdam on Tuesday evening. Thirty years ago, a Boeing 747 crashed into two flats, killing at least 43 people. The commemoration attracted hundreds of people.
"If I hear a plane coming, I make sure I'm not at the window." These are the words of a then five-year-old witness to the Bijlmer air disaster, spoken by Tanja Jadnanansing. The chairman of the executive board of the Zuidoost district council was one of the speakers during the commemoration.
Thirty years is "a generation ago", but the Bijlmer plane disaster has not disappeared from the Amsterdam district. "Every year, as October 4 gets closer, the Bijlmer gets a little quieter," said Mayor Femke Halsema.
Outsiders do not immediately notice, the mayor said. Because there is nothing to notice on the street. "But in some households there is more silence."
Prime Minister's words turned into a cold shower
In addition to Halsema and Jadnanansing, State Secretary Vivianne Heijnen (Infrastructure and Water Management) also gave a speech. Her words were hollow, especially with today's knowledge. The work of several investigative journalists showed that the government has tried to cover up important details of the Bijlmer plane crash.
Reverend Otto Ruff said it aptly later during the commemoration. "The then prime minister (Ruud Lubbers, ed.) said: 'We are connected with you.' That was like a warm blanket, but unfortunately it turned into a cold shower."
"The solidarity that was released then has never left."
Femke Halsema, Mayor of Amsterdam
Halsema also noted that a lot went wrong in the handling of the Bijlmer air disaster. "People have been abandoned. Important questions have not been answered. Politicians have been busy with themselves. Comments have been made, which created the feeling that not everyone belonged equally."
Yet the Bijlmer air disaster did not only bring bad things. The mayor mentioned the mutual solidarity in the district. "It then came loose and never left."
Not so quiet trip to 'the tree that saw everything'
The silent journey to 'the tree that saw everything' showed that after thirty years the emotions no longer dominate during the commemoration. There was a lot of talking along the way. Halsema also chatted with people from the procession and occasionally joked.
After mentioning the 43 dead, it was quiet at 6:36 p.m. at the spot where El Al's cargo plane crashed thirty years ago. Wreaths were then laid at the memorial. Representatives of Schiphol and airline El Al also did so.
It is not yet clear what the upcoming commemorations will look like. The foundation that took care of the organization for years is now ending. The municipality of Amsterdam does not yet know how to follow up on this.
---