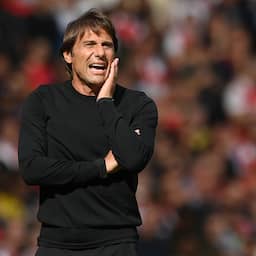 Tottenham Hotspur manager Antonio Conte has questioned the level of the arbitration after the lost London derby against Arsenal (3-1). The Italian believes that one line should be drawn more often in the Premier League.
The 53-year-old Conte's annoyance stems from the red card Emerson received in the 62nd minute of the game after a 2-1 lead over Arsenal. The Brazilian planted his foot on Gabriel Martinelli's ankle and was immediately sent off by referee Anthony Taylor.
"In England it's difficult because there isn't a single line drawn. Sometimes you see a foul that is worth red, while a yellow card or nothing at all is given. And sometimes red is drawn when yellow is more appropriate They need to work on that," Conte said at his post-match press conference.
"In Italy, for example, the referees come together to review the images together and improve themselves. I don't know if they do that in England too, but it wouldn't be a bad idea. The level in the Premier League is very high and we need an arbitration and VAR of the same level. Everything has to be top notch."
Five minutes after the red card, Arsenal decided the game by making the 3-1 via Granit Xhaka. "The red card has taken all the tension out of the game," Conte said. "We were very offensively positioned and that made it very difficult to defend. Sometimes it is against."
Tottenham Hotspur suffered only the first loss of the Premier League season at the Emirates Stadium. Arsenal have won seven of their first eight games and are still in the lead in England with 21 points.
---