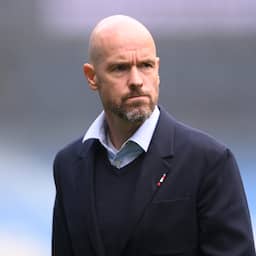 Manchester City inflicted a very painful defeat on Erik ten Hag's Manchester United in the Premier League on Sunday afternoon. On the basis of stars Erling Haaland and Phil Foden, 'The Cititens' waltzed over the defenseless fellow townsman: 6-3.
The visit to Manchester City was seen as an important exam for Manchester United, which was working on a good series after a bad start.
At the Etihad Stadium it became clear how much work Ten Hag has to do to give Manchester United back its old grandeur. Manchester City trumped the fellow townsman on all fronts, under the watchful eye of the increasingly grumpy looking Sir Alex Ferguson. For a long time, the home side even seemed on their way to a record win in the derby, but the 6-1 from 1926 and 2011 (both achieved by Manchester City) remained in the books.
Missing out on the record was at most a blemish on an otherwise perfect afternoon for the national champion. With sublime positional play, the home team stringed together the possibilities. Manchester United hardly offered anything in return and were lucky that Manchester City seemed to believe it after Foden's 6-1 after 72 minutes. It even became 6-3 via two hits from substitute Anthony Martial.
Manchester United are seventh in the Premier League after the heavy defeat, with twelve points. With twenty points from eight games, Manchester City occupies second place, one point behind Arsenal.
This post will be expanded…
---