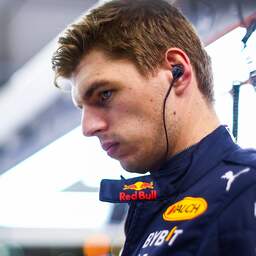 02 Oct 2022 at 18:31Update: 3 minutes ago
Shortly after the finish of the Singapore Grand Prix on Sunday, Max Verstappen was still very disappointed with his seventh place. Expectations were already low beforehand, from eighth on the grid, but it turned out to be a frustrating day for the Dutchman.
By Joost Nederpelt
Verstappen did not take his first chance in 2022 to become world champion. He did not think that was important at all, the World Cup leader stated in conversation with the press afterwards.
"It's not the problem that I don't become a champion, I'm still big on it. It's just a frustrating day. It doesn't matter where we are. I just always want a perfect weekend, but this all went terribly."
Verstappen started eighth on a still drying Marina Bay Street Circuit, but soon lost even more places. The anti-stall system, which is to prevent the engine from stalling, switched on when driving off. Then the link is automatically revoked.
"I don't know why that happened, I think I just went through the normal procedure," said Verstappen. "Then you end up in an even more difficult position for a good result."
'My tires went up in the air'
So it was a false start of what was supposed to be a catch-up race, but then Verstappen's advance finally started. That didn't take long though.
"At least I passed a few cars. But then I got stuck, because it's just almost impossible to overtake."
After a safety car situation, Verstappen finally seemed to be able to attack Lando Norris. But that didn't go as he expected.
"I don't know how it happened, but my underbody hit the ground causing the front wheels to lose contact with the tarmac. Then I locked my brakes and I immediately had two thick flats on my tires. I was already bothered by that bottom touched the ground on the regular line, but off the racing line it was even worse. I didn't brake that late at all. But my tires really went up in the air."
Verstappen did not expect miracles
Verstappen then had to go to the pits again. "With new tires I still managed to get back in the points, but this was not what we wanted. On the other hand, you couldn't expect miracles after yesterday."
Despite the frustrating race and seventh place, Verstappen was still involved in some nice fights, but he hadn't enjoyed them at all.
"Zero. I like to fight up front, but this was just frustrating. You're stuck behind other cars, a problem with the start, then those locking tires. Then you're back in the back. It was awful."
'I wasn't in the mood'
It was the end of a weekend that already went wrong on Saturday because his team settled the amount of petrol in the car. "We already screwed up a lot then, of course. Then you start with a backlog."
After qualifying, Verstappen quickly went to his hotel, without any discussion with his team. According to the Limburger, there should not be too much looking for it."
"I just wasn't in the mood to talk about it. It wasn't a statement or anything, but I hadn't really enjoyed such a debriefing either."
Image: Getty Images
---