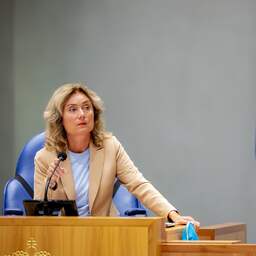 The presidency of the House of Representatives reports the leakage of confidential information about the investigation being launched into Khadija Arib, spokesperson for chairman Vera Bergkamp reported to NU.nl. It is not clear who the complaint is against.
Last week it was announced via the NRC that the presidium (the day-to-day management of the House of Representatives) is investigating Arib because of possible cross-border behavior during her time as Speaker of the House of Representatives. There have been reports of "abuse of power", a "reign of terror" and an "unsafe work environment".
In addition to the report, a letter will also be sent on Monday with more explanation about the circumstances of the investigation, as a group of MPs had requested, the spokesperson reports. The presidium has yet to say anything about the resignation of PvdA politician Arib himself.
Arib resigns because she is angry about the way the executive board has decided to launch an external investigation. She said last week that she herself had not been informed about the investigation before hearing about it in the media.
Reporters hoped that Arib had ended up on the sidelines politically
The two anonymous reports against Arib were made in July this year. The anonymous officials sounded the alarm about her new role. Arib was appointed in July as chairman of the committee investigating the cabinet's approach to corona. In that committee she again comes into contact with the same group of civil servants as she worked with during her time as Speaker of the House.
"We had hoped that she had ended up on the sidelines of politics. Then she could do no further damage," the NRC quoted one of them as saying about that appointment.
There have been complaints about her before her time as Speaker of the House. It is unique that the presidency has conducted an investigation into the behavior of a former Speaker of the House. Bergkamp, ​​who took over the Chamber presidency from Arib, is also on the board.
---