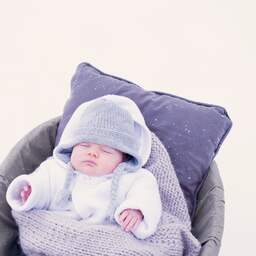 01 Oct 2022 at 21:47
Having a baby means losing sleep. Some kids are super sleepers, others make your nights shorter than you ever imagined. For those who really don't know anymore, there are children's sleep coaches. Inge de Heer has her own practice called The Child Sleep Coach. We asked her the following sleep question: "How do I know if my baby is not too cold at night?"
By Julia Skipper
What is the best bedroom temperature for a baby?
"The best bedroom temperature for babies is usually between 16 and 20 degrees. For smaller or premature babies, who are not yet able to keep themselves warm, it is better if the temperature is really around 20 degrees."
What is the best way to dress your baby at night?
"That depends entirely on the temperature in the bedroom. One baby also gets cold faster than another. It is therefore important to look at your child and feel in the neck of your baby. You immediately feel whether a baby is nice and warm."
"If you look at the TOG value (Thermal Overall Grade, a guideline that indicates how well clothing or bedding retains heat), a good, warm winter sleeping bag is between 2.5 and 3.5."
A sleeping bag is especially important.
Inge de Heer, child sleep coach
As a parent, how can you control your child's temperature?
"In winter you can keep the temperature constant with a heater or a sleeping bag. If it is warm in the room, a child needs slightly less clothing. If it is colder outside, you can also put on warmer pajamas, but especially a sleeping bag is important."
Is it bad if a baby is a little cold in bed?
"It's not good if babies are too cold. They don't sleep enough, while they need it to grow. A baby can also become hypothermic, but they often report well in time by crying."
A sleeping bag with legs, one for the car seat: the world of sleeping bags is bigger than you think, according to Ouders van Nu.
How can you be sure that your baby is not too cold?
"You often see that they wake up early in the morning if they are cold, around 5 or 6 am. If your child's neck feels cold, you can look for warmer pajamas or sleeping bag with a higher TOG value. "
"It is also an option to keep the room warmer. Parents often check in the evening whether the room is warm enough, but then forget that the house cools down at night. You often see that the heating is turned down at night Then it cools down in the baby's room too."
Can a baby be dressed too warmly?
"Yes, dressing too warm can also happen. If your child turns red or sweats a lot, then it is dressed too warm. Then give your child a layer less clothes."
What are the best tips in the end?
"Feel in the neck. If someone is cold, the neck immediately feels a bit cooler. You should not feel the hands. Cold hands don't mean much, babies have them more often."
"In addition, keep in mind that the room can feel warm in the evening, but cool at night. You want your child dressed for the lowest temperature. If your child is warm before going to bed, zip the sleeping bag open it a little, then close it all the way when you go to sleep yourself."
Image: Getty Images
Read more about:
Child & Family
---