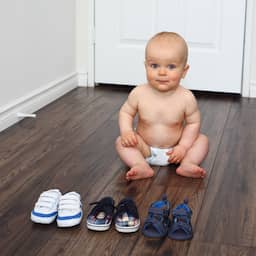 01 Oct 2022 at 21:48
Second-hand children's shoes are a lot cheaper than new ones and very durable. But is it also good for the young child's foot? What should you pay attention to when purchasing (second-hand) shoes for your little one?
By Brenda Kluijver
You can often find children's shoes that still look good on Vinted, Marktplaats or just at the local thrift store. One parent swears by them, because they are affordable and less bad for the environment. The other parent thinks it is dirty or thinks that second-hand children's shoes are bad for the child's foot.
The latter is not a myth, says pediatric podiatrist Sandy Westerhof. "But shoes are often expensive, so I understand the choice for second-hand shoes. It is good to know that you do take some risk with them. An already worn shoe has molded itself to the foot of the first wearer. That's over. generally unwise for the fast-growing, developing child's foot."
Podiatrist and movement expert Gonnie Heijgele also advises against wearing second-hand children's shoes. The arch of the foot is formed in the first ten years, she explains. In addition, the natural development of the foot and leg changes during the first six to eight years. This should ensure that the muscles on the inside and outside of the foot and leg develop properly.
Baby feet need to be able to move freely, so: no matter how cute, don't put them in trendy sneakers.
Sandy Westerhof, pediatric podiatrist
"If a child then wears a shoe that has already formed incorrectly or has already worn out too much, the muscles in the foot and leg will receive the wrong stimulus during the transition," says Heijgele. This has consequences for the correct development of the muscles in the foot and leg.
Still second-hand? Pay attention here
If you are forced to opt for second-hand children's shoes or if you want to do so because of sustainability principles, there are a number of things to keep in mind.
"Try to find shoes that have hardly been worn. Think of a few days or a maximum of a few weeks. You can often see this clearly in the wear pattern on the insole and under the shoe, on the outsole," says Westerhof. Searching for unworn shoes with the price tags still attached is also an option.
No less than two thirds of the children walk around in shoes that are too small.
Gonnie Heijgele, podiatrist
Extra space for rapid growth
When purchasing children's shoes, new is therefore best for children's feet. But what else should you pay attention to? "Baby feet should be able to move freely, so: no matter how cute, don't put them in trendy sneakers," says Westerhof. "Warm slippers or socks are more than enough. A child's foot is still largely made of cartilage, so you want to keep it out of those stiff shoes for as long as possible."
"Even if they start to crawl or start walking, shoes do more harm than good," she continues. "When children walk independently outside the home for about two months, you can opt for 'first step' shoes."
According to the two podiatrists, the shoes can be a bit firmer for school-age children from the age of four, but with a flexible outsole. This is necessary to ensure that the child's foot can unwind properly.
Heijgele: "I notice that children's shoes are often too stiff. Wringing a shoe, like wringing a cloth, can help to see how sturdy the shoes are at the arch of the foot." Westerhof adds: "The length and width must also be right. In the length you can give 1 to 1.5 centimeters extra space for rapid growth."
Never go wrong when measuring again? Parents of Nu made a handy table to measure your child's feet.
Shoes too small
And that's where things often go wrong, according to recent research and from the daily work of podiatrist Heijgele. "As many as two-thirds of children walk around in shoes that are too small. There are also the necessary misconceptions about checking the right size, such as holding the shoe sole against the foot."
The heel test is also not reliable, according to the expert. Keep your thumb between the heel and the back of the shoe. "Children then push their foot forward so far that their toes get pinched. The nerves in children's feet are not yet developed enough to feel that a shoe is pinching or too small."
Feeling the front of the shoe with your thumb can be a good method for parents, according to Heijgele. "Note: children partially reflex their toes slightly when you measure like this. You don't always realize that," she says. Both podiatrists recommend trying on shoes in the shoe store and, if necessary, asking for advice on the spot.
"Don't blindly trust the shoe sizes that manufacturers use, they can turn out very differently per brand on your child's foot. Especially with sneakers," says Heijgele. "Measure yourself? Measure the longest foot; feet are rarely the same length."
Image: Getty Images
Read more about:
Child & Family
---