The XBNL editors have asked veteran and boss of the Discord XBNL community, Eddie, to review The DioField Chronicle for our supporters. You read expert judgment here.
Square Enix is ​​of course known for years of (J)RPGs. And especially the largest, well-known series such as Final Fantasy, Star Ocean and Dragon Quest. Unfortunately, we haven't always been spoiled with these titles on Xbox and they regularly stuck on other platforms.
Suddenly there was another Square Enix game and an RPG too. No, not a great title from a well-known series. In fact, it's a standalone title that hit the market with minimal marketing. It's that I'm good in the game world, otherwise I wouldn't have known this game was coming out. I'm talking, of course, about The DioField Chronicle.
Welcome to Final Fantasy…or not?
When you start this game you get a strong Final Fantasy feeling. A story is revealed in a fairly typical style, initially with the graphic style that you actually expect. Until halfway through the intro the style changes a bit. Besides the typical RPG story, a tactical part now also comes into play.
Luckily they do this right in the intro. It is immediately clear that you have started a game that is not just a Turn-based RPG or an action RPG. No, you also have to think tactically about how you approach battles.
Does it have anything to do with Final Fantasy? Then why tease with the headline?
Well, there are definitely Final Fantasy influences in The DioField Chronicle. Summons, for example, are a part that should sound familiar. In fact, several summons in this game come straight from Final Fantasy. Your first summon you will soon receive is Bahamut. So enough recognition.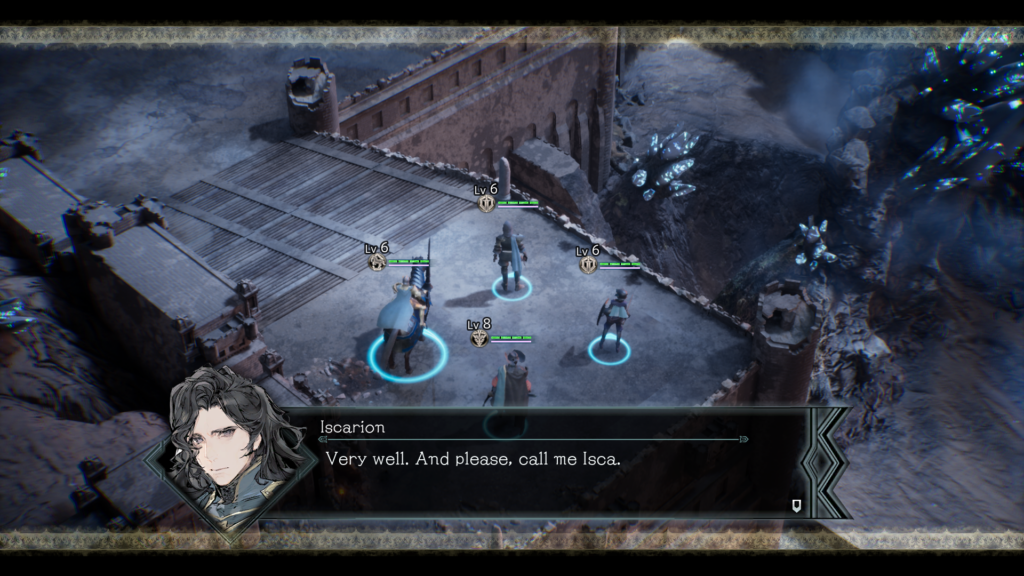 Story
The story is about an emerging empire in the east of the world that threatens to take over the rest of the continent. The remaining free countries will fight together in the form of an alliance. Of course you end up in that alliance. The battle of this group is central to the game. Especially in the Alletain region on the island of DioField.
The exact story is revealed in a pretty stretched out way. How you play the game is also explained to you in the same stretched way. As a result, you do not have all the information (and that is a lot) suddenly thrown into you. But the downside is that the opening of the game was a bit too slow for me and stretched too far.
Gameplay
Because the game also has tactical influences, the gameplay is slightly different than you can be used to. Especially in this game, because even within the tactical part the game does not follow the well-trodden paths.
Normally with a tactical RPG you have a so-called grid where the battles take place. That way you get to see how far you can run, what the range of your attack is, etc. It's a bit different here. Your characters can be placed by you individually or as a group, wherever you want. During that process of moving, the game pretends to be a turn-based combat game. So the enemy will not attack you. During attacks, the game behaves more like a real-time RPG. In short, you attack, but the enemy can also take you.
During the part that the story is revealed (usually on the army base where you are also assigned missions), the game continues in third-person view. The army base is pretty empty at first. As you progress, there will be more and more in the base. You will find the shop where you can buy the weapons and accessories. The war room where you get the missions, a research lab where weapons and orbs are researched, and a place where you can replay previously played missions.
The latter is an important place. Why? Because there you can grind XP and save money so you can get stronger. Now the game isn't extremely hard, so no real XP farming is needed in the beginning. Later this may be an important part to keep up with the growth of your enemies.
Classes
In addition to having the standard four classes (soldier, knight, marksman and healer/mage), you also have an arsenal of weapons and accessories at your disposal. Through these last two parts, you can build a wide range of fighting styles. Especially if you also count that you can teach each character certain skills. Are you going for a tank build, or are you going for a build where magic plays a major role?
Each class has its strengths and weaknesses. If you're a sniper and you keep fighting from a distance, keep in mind that your Health will be hit a bit faster if you take damage. The knight has a good resistance to attack, but is more limited in the range of enemies he can attack in 1x.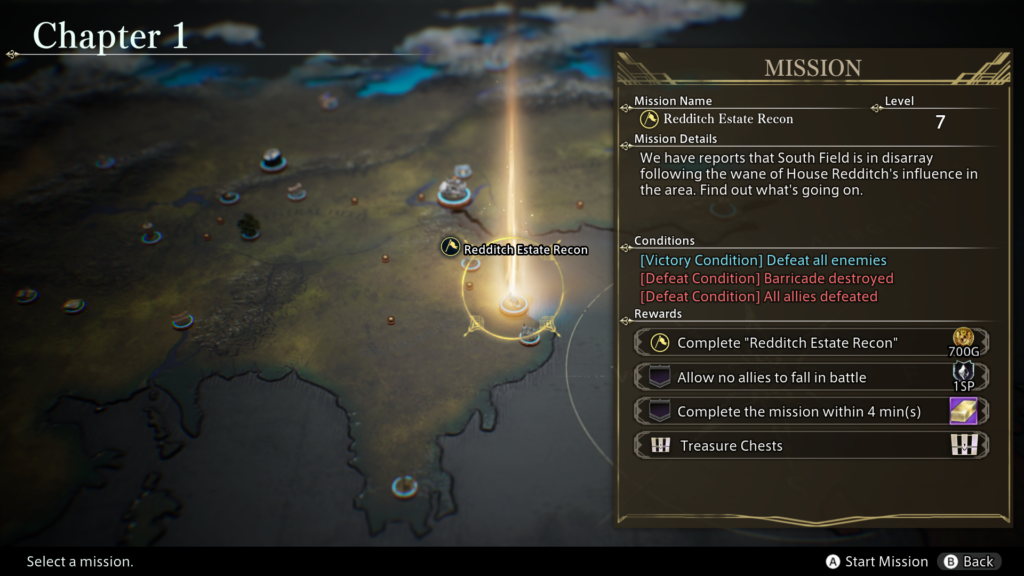 Graphics and sound
The DioField Chronicle has a nice style in which the story is built. Often the graphic style is used as it also takes place in a Final Fantasy (usually with summons). Just as often, a watercolor-like drawing style is used, which was a pleasant surprise for me. Within the battles you have to deal with the least impressive style. You see your characters fairly top down and without too much detail. This one is neat but not really impressive, where the other two styles have a wow factor.
In terms of sound, it is a double feeling. No, not all text that comes along is recorded. And that's not a bad thing anyway. Also the voices and the other sounds are quite ok. There is, however, a point of annoyance with the votes. The Japanese dev and pub have chosen a voice type that they think sounds very distinguished, but that in the western world comes across as very flat and uninterested. This is fine for a short time, but after a while it gets on the nerves.
Lifespan
As befits a real RPG, you will have a good time with this game. Because you can replay missions (because you like them, or because you want to grind XP) this lifespan is even longer. I've been playing the game for over 6 hours and haven't finished chapter 1 yet. This is partly due to the slow build-up, but also because there is plenty to do.
To get through this game I expect that you will be busy for 40 to 60 hours. More than enough to keep you busy during the wet and dark days to come.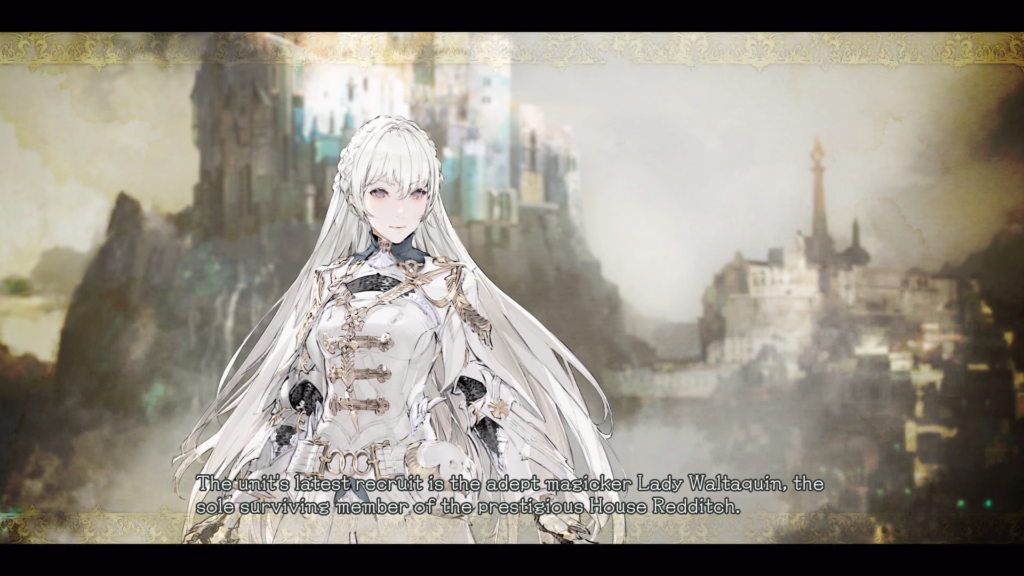 Achievements
The DioField Chronicle has 39 achievements. Unfortunately, they are also all straight forward. So expect to get x number of kills, go through the chapters, buy a weapon, etc, etc.
Of course there are also typical achievements that you have to grind hard. For example, you have 7 skills for a class, or get 25 Blue Fox badges. As you can predict, you also need to get your character to level 50.
I would have liked to see these last types of achievements a bit more original. Now it mainly feels like filling for a game, which you then have to grind while you are actually already done with it.
Conclusion
The DioField Chronicle is an above average RPG, which mainly suffers from poor marketing. As a result, (too) many people will ignore the game. Really a missed opportunity, because it is a game with nice gameplay. Downsides are the voices of the characters and the point that characters don't really develop. As they are in the first minute, they are also in the last minute of the game.
---