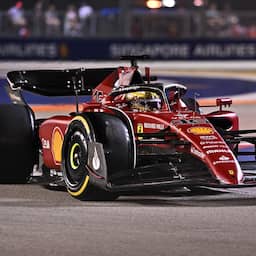 Now that qualifying for the Singapore Grand Prix is ​​over, our reporters Patrick Moeke and Joost Nederpelt can make a prediction for Sunday's race. What do these experts think? And what do you think? Shine your light on our reaction platform NUjij.
Joost: "Verstappen will not become champion on Sunday. According to him, that scenario was already 'unrealistic' and it has certainly not become more likely after Saturday. However, there is a nice race ahead with likely changing conditions. Verstappen can still score high. "Winning is not necessarily in it, but a nice podium place from eighth on the grid is certainly possible. The more chaos, the better it is normally for Verstappen. If Leclerc stays clear, he wins the race."
patrick: "If it stays dry, a win will be difficult for Verstappen in Singapore, where overtaking is possible but certainly not easy. He must be able to drive to the podium. At the front I see Leclerc driving away, although he will sooner or later will have to deal with a safety car, as it had to be on track here during all previous GPs. If it rains, it will be total chaos and Verstappen can also win. In both scenarios, Verstappen will have his title party for at least a week because I don't expect Leclerc to finish outside the top seven."
Can't find the NUjij comments? Click the button at the top or bottom of this post that says 'comments' to go to the comments. You can leave your comment or comment there.
---