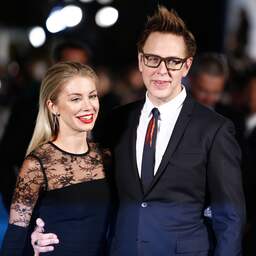 Director James Gunn and actress Jennifer Holland have married. The two tied the knot on Friday at an outdoor ceremony in Aspen, Colorado.
"After more than seven years together, I'm finally married to the love of my life," Gunn, director of the Guardians of the Galaxy film series and The Suicide Squad, wrote on Instagram. "What an incredible, beautiful, breathtaking day surrounded by the most amazing family and friends in the world."
The 56-year-old Gunn and 34-year-old Holland said they had "one unwanted guest" at the wedding. Just before the ceremony started, a moose appeared. "But, he just lives there. So I think we were guests at his house," says Holland. She and Gunn both shared photos from the party on social media.
The couple has been in a relationship since 2015. For Gunn, it is his second marriage. He was married to actress Jenna Fischer, best known as Pam Beesly on The Office, between 2000 and 2008.
---