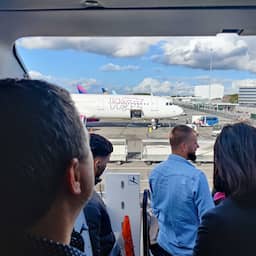 The malfunction in the baggage handling system at Eindhoven Airport has still not been resolved. As a result, five flights can no longer depart. A solution must be found for about eight hundred travelers, says an airport spokesperson in conversation with NU.nl.
According to the spokesperson, the airlines must arrange an overnight stay for the stranded passengers. They cannot stay overnight in the terminal.
Various travelers approached NU.nl and complained about inadequate information. They are not sure that they will soon be able to spend the night in a hotel. Earlier in the day, travelers complained that they had to wait for hours in planes because there was no more space in the terminal.
The spokesperson places the responsibility with the airlines. "We don't fly again until 07:00 and our doors have to close at 00:00." The airlines also have to book new tickets for the travelers.
The disruption also affects Sunday's flight schedule at Eindhoven Airport. It is likely that there will be further delays. The airport advises travelers to keep an eye on the website and to contact their airline if they have any questions.
---