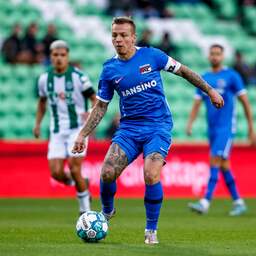 01 Oct 2022 at 21:57Update: a minute ago
Jordy Clasie was not part of the Orange squad last international period, but according to the midfielder that was his own choice. The AZ captain said he did not want to take too many risks because of his injury history and the busy schedule.
By our sports editors
After the 1-4 win against FC Groningen, Clasie initially wanted to say little about his absence from the Dutch national team of Louis van Gaal. "I have been in contact with the national coach about that and that will remain between us," Clasie told ESPN.
The midfielder gave more information after insisting. "No, I have not passed. I had a slightly more difficult period, especially with my knee. I have decided together with the medical staff that it is not the right time to go. Also because we play a bizarre number of matches," he said. he in the ten duels that AZ still plays until mid-November.
Clasie said he does not expect his choice to affect his possible place in the selection for the World Cup, which starts on November 20 in Qatar. "Let's just continue like this at AZ and then we'll see what will happen."
The midfielder also withdrew in May for the matches of Orange in the Nations League with Belgium, Wales, Poland and again Wales. At the time, he also struggled with knee problems. "I now have to choose for myself and my body," he said at the time. "I am sorry not to be there. But I think this is the right choice for myself."
The Netherlands won twice in the last international match without Clasie in the selection. The Orange defeated Poland 0-2 in the Nations League on September 22, after which the group stage ended last Sunday with a 1-0 win over Belgium.
Image: Pro Shots
Read more about:
AZOrangeJordy Clasie
---