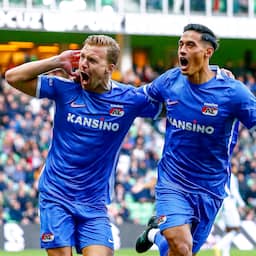 AZ booked a simple victory against FC Groningen in the Eredivisie on Saturday. Coach Pascal Jansen's team took the lead at lightning speed and did not relinquish the lead after that: 1-4. The victory allows the Alkmaarders to pass PSV, which lost 3-0 at SC Cambuur earlier in the evening.
Jesper Karlsson made his comeback at AZ. The attacker was injured in the last game of last season and has not played since. The recovered Swede played a major role in the opening goal. Goalkeeper Michael Verrips was unable to process a long shot from the attacker well, after which Dani de Wit reacted alertly: 0-1 after two minutes.
Fifteen minutes later, AZ doubled the lead via Karlsson, on a pass from Tijjani Reijnders. On the stroke of half-time, Groningen did something back via Ricardo Pepi, who hit the ball well from the turn. Milos Kerkez, however, quickly made the decision in the second half. The left back was well sent off by Reijnders and then outsmarted Verrips.
Just before time, Mayckel Lahdo provided the final chord. With a long ball from goalkeeper Hobie Verhulst, Peer Koopmeiners cleverly controlled the ball, after which the substitute brought Lahdo into position.
AZ is still unbeaten in the Eredivisie with six wins and two draws. The team passes PSV in the ranking and is now the leader. Later in the evening Ajax drew 1-1 against Go Ahead Eagles in front of its own audience and therefore failed to take over the lead from AZ. FC Groningen remains in twelfth place due to the defeat.
---