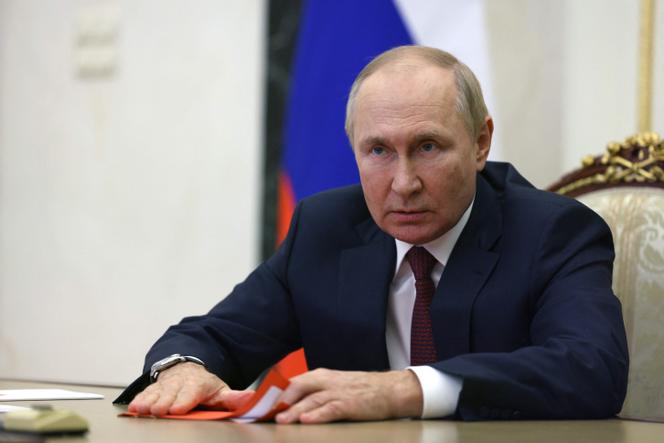 Russian President Vladimir Putin chairs a meeting of the National Security Council, by video link, in Moscow, September 29, 2022. GAVRIIL GRIGOROV / AFP
As dissatisfaction grows with the often chaotic mobilization of Russian conscripts to revitalize the military offensive in Ukraine, Vladimir Putin resigned himself to a slight act of contrition on Thursday, September 29, by acknowledging oddities in the convocation process.
"This mobilization raises many questions. We must correct all the errors and ensure that they do not happen again, "admitted the Russian president during a meeting by videoconference with his Security Council, broadcast on national television.
Mr. Putin mentioned the summoning of fathers of large families, people suffering from serious illnesses or even very old people, all cases which should be exempted under the law. Kremlin spokesman Dmitry Peskov had already admitted on Monday "errors" in this mobilization, supposed to concern 300,000 reservists with military experience or useful skills, such as truck drivers.
"If a mistake has been made, it should be corrected and those who were summoned without proper reason should be brought home," Putin stressed. "People called up for military service must undergo additional military training before being sent to the units," the Russian head of state also declared during this meeting.
Read also: Article reserved for our subscribers Finland closes its border to Russians
The mobilization has triggered numerous demonstrations in Russia since its announcement on September 21. More than 2,400 people were arrested during these parades, according to the specialized organization OVD-Info. Many Russians have also chosen to flee the country, causing long queues at the borders of Georgia, Kazakhstan, Mongolia and Finland. Air flights were also taken by storm.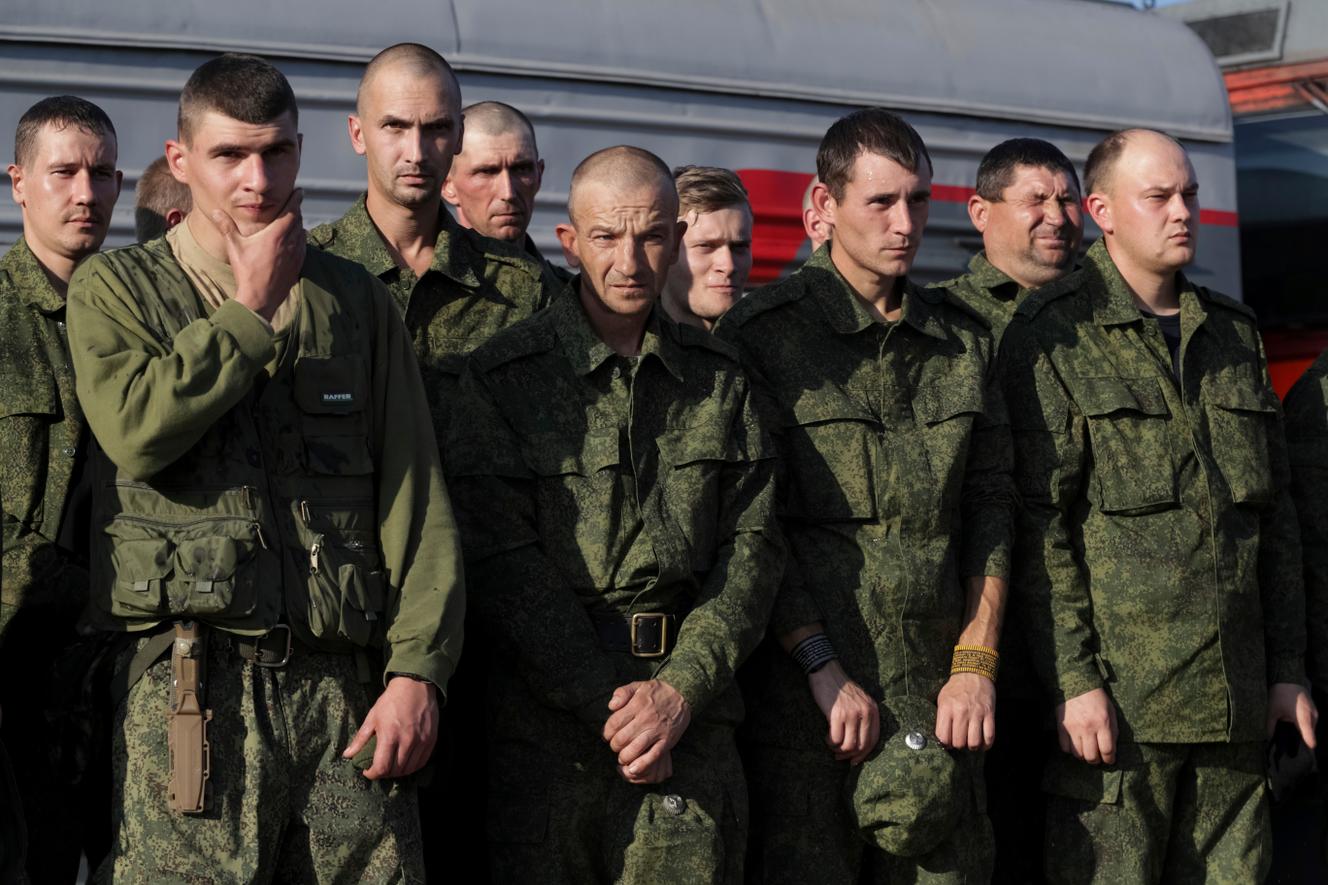 Russian recruits wait to catch a train at a train station in Russia's Volgograd region, September 29, 2022. AP
The independence of Zaporizhia and Kherson recognized by Vladimir Putin
Vladimir Putin assured Thursday that the offensive he launched against Ukraine on February 24 was one of the results of the "collapse of the Soviet Union", as were the conflicts simmering in other places in the vast space of the former USSR. He assured that a "more just world order" was being formed through "a difficult process".
In addition, in decrees published Thursday evening, the Russian president recognized the independence of the Ukrainian regions of Zaporizhia and Kherson, a preliminary step to their annexation. Russia had already recognized the independence of the Donetsk and Luhansk regions at the end of February. Mr. Putin will thus formalize, on Friday, in Moscow, the annexation by Russia of these four regions occupied in part or totally by Russian forces, after the referendums organized from September 24 to 27 in these territories. Russia already annexed Crimea, a peninsula in southern Ukraine, in 2014.
For its part, the Security Council of the United Nations (UN) will vote on Friday on a resolution condemning these "referendums" of annexation. The draft text prepared by the United States and Albania, and seen by Agence France-Presse (AFP), calls on all states and other organizations "not to recognize an alleged annexation" of the four regions by Russia . It also demands that Moscow "immediately cease" its invasion of Ukraine and "immediately, completely and unconditionally withdraw all its military forces" from the country.
The text has no chance of being adopted because of the Russian right of veto. And if Moscow uses its veto "to protect itself," "then we will look to the General Assembly to send an unambiguous message to Moscow," US Ambassador Linda Thomas-Greenfield said on Tuesday.
Read also: Article reserved for our subscribers War in Ukraine: Washington announces new arms deliveries to kyiv
China's position carefully considered
If the Russian veto is not in doubt, it is above all the position of China, sometimes accused by Westerners of being too conciliatory with Russia, which will be examined with attention. Beijing, officially neutral, repeated this week its call for respect for the territorial integrity "of all countries".
India's position will also be closely monitored. The two countries had abstained in February the day after the Russian invasion, when Russia had vetoed in the Council a resolution denouncing its "aggression" of Ukraine.
The subsequent vote in the General Assembly, where none of the 193 member states has a veto, will allow him to gauge Russia's degree of isolation, as some developing countries fret that the West concentrates all its attention on Ukraine.
Read our report: Article reserved for our subscribers "What is the point of fleeing a country at war for another country at war? Armenia, an unstable refuge for the Russians
In the spring, the General Assembly had voted three resolutions concerning the invasion of Ukraine by Russia, the third at the end of April having resulted in an erosion of international unity vis-à-vis Moscow. "But by putting annexation and territorial integrity on the table, Putin will force a number of hesitant states to return to the Ukraine camp," including some African states, predicts Richard Gowan, an analyst at the NGO International Crisis Group.
---