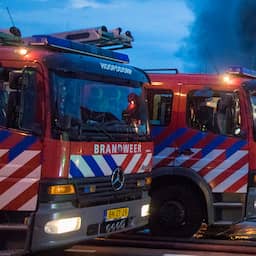 The fire brigade was called out on Thursday evening for a fire on Helenastraat in The Hague. It has been scaled up to 'very large fire'. A lot of smoke comes out of a sports hall of the ROC Mondriaan in Bezuidenhout in The Hague.
The report of the fire came in at the control room around 6.30 pm. When the first fire brigade units arrived, they immediately scaled up to 'major fire' and shortly afterwards also to 'very large fire'. No one was in the building when the fire broke out.
The fire brigade units from the barracks Archipel, Voorburg, The Hague, Honselersdijk and Wassenaar are on site. The fire service has called in many vehicles and personnel because it is a large building, the fire service reports. This was also done because there are few water points in the area. The fire service has deployed a drone to explore the fire above the building.
Windows and doors closed
Images show that a lot of smoke is coming from a sports hall of the ROC Mondriaan. Residents have been asked to keep windows and doors closed. "If you smell the fire, close windows and doors and turn off electrical ventilation systems," the fire department said.
Firefighters come out of the building 'blackened', says a spokesperson at the location. A security guard called the fire brigade when he saw flames in the sports hall. All doors to the building are kept closed to prevent the fire from spreading further.
At 8.15 p.m., the fire service reported that the fire had been located. Attempts are currently being made to extinguish the fire from the inside. Because the units have to get the water from afar, the area around Helenastraat has been closed off to traffic. The Bezuidenhoutseweg and part of Laan van Nieuw East Indies are closed as a result.
---