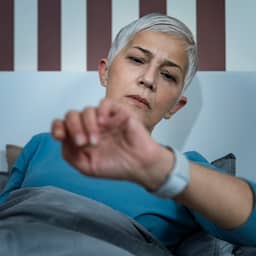 Sep 29, 2022 at 7:59 PM
Measurements from sleep trackers in smartwatches and activity trackers are unreliable, experts warn. People with sleep problems who take the popular sleep monitor too seriously are even at risk of developing a sleep disorder.
By Tim Wijkman
According to market researcher, the number of Dutch people with a smartwatch is Telecom paper grown considerably in recent years. According to the market researcher, 29 percent of the Dutch now have a smartwatch, such as the Apple Watch. 11 percent of all Dutch people have an activity tracker, such as a Fitbit.
A smartwatch is a smart watch with a touchscreen and apps. An activity tracker is a compact wristband that registers movements and heart rate, for example.
Many of these products are capable of measuring sleep, according to the manufacturers. Every morning, users can see interesting-looking graphs about their sleep. It states how long you have been in certain sleep phases. Often they also give a score to sleep.
"What a pedometer measures is very easy to understand for people," Sebastiaan Overeem tells NU.nl. Overeem is a somnologist (sleep expert) at the Kempenhaeghe sleep center and professor of sleep diagnostics at Eindhoven University of Technology. "But that's not the case with sleep monitors. What they measure, how they measure and how the measurement data should be interpreted often raises more questions than answers."
Good or bad sleep is a subjective feeling
Somnologist and pediatric neurologist Sigrid Pillen also notes that good or bad sleep is a subjective feeling: "If you tell someone that he or she has slept poorly, that person often also feels worse. That is how it works with a sleep monitor. your smartwatch says that your night's sleep has not been good, that psychologically affects your feeling and behavior".
Pillen is especially concerned about the measurement data that people see. "Sometimes people with excellent sleep see a bad score on their tracker. The concerns that arise from this can even lead to a sleep disorder."
An important condition for falling asleep is that people can relax. People who are concerned, for example about sleeping problems registered by their smartwatch, are less able to relax and therefore sleep less. So it's a vicious circle.
Even the best sleep tracker is moderately reliable
Overeem confirms this picture: "Even the best sleep trackers in consumer products are still moderately reliable at the moment".
In sleep centers much more extensive measurements are made for research into sleeping problems. Many more bodily functions are measured than what a smartwatch does. For example, with electrodes on the head, brain activity is measured, from which somnologists obtain information about sleep.
As a professor of sleep diagnostics, Overeem closely follows the development of sleep trackers in watches and wristbands. Overeem observes a reverse trend with sleep monitors: "Normally, a medical measuring instrument is first introduced, followed by a consumer version, such as a blood pressure monitor. With sleep monitors, this is now the other way around. Tech companies develop sleep meters, which are sold with all kinds of unsubstantiated claims."
Medical world is interested in sleep measurement with wearables
Still, Overeem sees something in the sleep trackers in so-called wearables. Current medical measurement methods are less comfortable. This affects the sleep of a patient with sleeping problems, and can be applied for one to two nights at the most. "From a medical perspective, we are definitely looking for alternatives to sleep measurement. Sleep measurement with a wearable is a promising development"
It's just not that far yet. "Even recording heart rate for medical purposes with a wearable took years of research before it was approved. Sleep monitoring is much more complex, so medical approval will take some time," said Overeem.
Wearables should provide advice, not a diagnosis
Rather than a "medical-looking" sleep diagnosis, Overeem says it would be much better if smartwatches and activity trackers provided lifestyle advice. "Provide understandable information such as 'you went to bed too late', 'your night's sleep was too short' or 'try to stick to a fixed rhythm'. That kind of information is easily measurable, understandable and users can really do something with it" .
Image: Getty Images
Read more about:
sleeping problemssmartwatchesTech
---