From last Wednesday you can watch on Netflix blonde (2022), a brand new Original film about the life of Marilyn Monroe. Yet the film about the Hollywood icon is not an actual recount of her life, Netflix emphasizes once again.
'No history lesson'
Netflix explains that Blonde is "blurring the lines of fact and fiction to explore the growing gulf between her public and private self." The streaming service emphasizes that the film is not a history lesson: "If that's what you're looking for, you better The Mystery of Marilyn Monroe: The Unheard Tapes (2022) go and see."
Director Andrew Dominik also says that he has done a lot of research for his film, but that he has not used it in the Netflix film. Blonde mainly shows what Monroe may have experienced inside before her sudden death at the age of 36
I've done all that research and I used very little of it in the movie.

Director Andrew Dominik
However, the film is not just taken out of thin air, but based on the bestseller by Joyce Carol Oates. The writer is convinced that her book is much closer to reality than many other films.
Many movies about Marilyn Monroe are quite upbeat and have a lot of music and singing. She is very beautiful and sweet. This one [Blonde] is probably closer to what she actually experienced. The last days of her life were brutal.

Joyce Carol Oates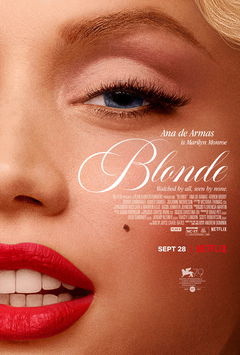 6.0 Watch on Netflix • After a rough childhood, Norma Jeane Mortenson grows into a movie star and sex symbol in 1950s Hollywood.
Ana de Armas as Marilyn Monroe
The new Netflix film offers a new perspective on the life of one of Hollywood's most enduring icons, Marilyn Monroe. From her childhood as Norma Jeane to her rise to stardom. None other than Bond girl Ana de Armas takes the lead.
Image: Still 'Blonde' via Netflix
---