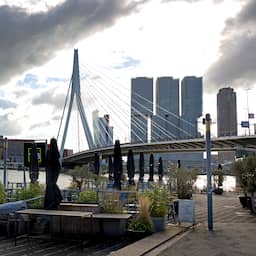 The Erasmus Bridge will turn green on Friday in solidarity with the Iranian people, after the death of 22-year-old Mahsa Amini. "Important gesture for women's right to self-determination internationally."
A demonstration has been going on in Iran for days after Amini died in Tehran earlier this month after being arrested by the vice squad. On her way to the police station, she is said to have been beaten up. The Iranian was arrested for violating the country's strict dress code – she refused to cover her head. However, according to the police, it was a natural death.
In solidarity, the Erasmus Bridge will turn green on Friday. The motion came from Denk councilor Elika Rehim Zadeh, who follows the news with a 'heavy heart': "We experience pain and sorrow that our people are being wronged. More than ever we need to realize that freedom of choice is not a big issue everywhere in the world. is good and that this gesture in Rotterdam is important for the right to self-determination for women internationally." The motion received unanimous support.
41 dead
A motion was also passed by GroenLinks councilors Mina Morkoç and Larissa Vlieger to project photos of the Iranian Mahsa Amini in the appropriate places with the Kurdish text 'Jin, Jiyan, Azadi' and in Farsi 'Zan, Zendegi, Azadi'. – Women, life, freedom.
Iran has been unsettled since Amini's death. At least 41 people were killed. More than 1,200 people were arrested in the demonstrations.
---