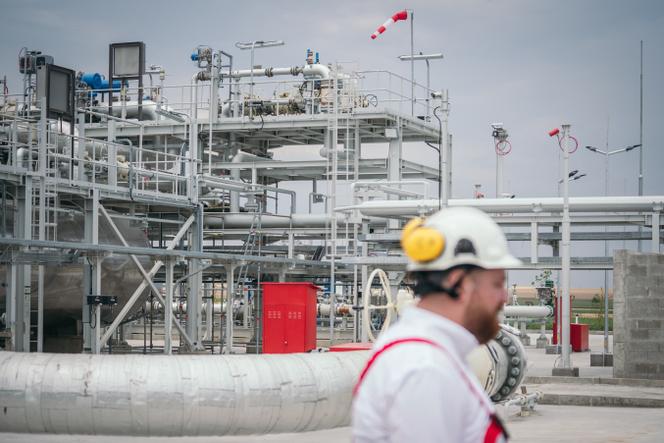 A gas complex, in Vadu, Romania, on June 28, 2022. ANDREI PUNGOVSCHI / AFP
In the medium term, this will undoubtedly be one of the most painful social consequences of the energy crisis that the continent is going through. "Because their energy expenditure is proportionally higher than that of the rich, the poorest households in Central and Southern Europe are more strongly affected by inflation," explains Beata Javorcik, chief economist of the European Bank for reconstruction and development (EBRD). And because in these countries the welfare state and redistribution are weaker than in the West, the increase in inequalities caused by soaring prices "could be significant" and, above all, "persist over a long period" .
This is one of the observations drawn up by the EBRD in its new economic forecasts, unveiled on Wednesday 28 September. In a report published in November 2021, this institution, created in 1991 to support the economic transition of the post-Soviet space, already pointed out that the share of incompressible expenses related to heating and energy weighed 25% of household expenses in Romania. and 22% in Hungary, against 7% in Germany. However, the outlook has deteriorated significantly since – in July, inflation exceeded 16.5% on average in the 37 countries where the EBRD operates, from the Baltic States to Central Asia.
Read also: Article reserved for our subscribers The OECD revises downwards its forecasts for global growth
Worse, gas now accounts for more than three-quarters of heat production in North Macedonia, Moldova and Ukraine. This suggests a difficult winter, especially if the temperatures drop a lot. Before the energy crisis, almost a third of the poorest households in Central Europe, Southern Europe and Central Asia could not afford to heat themselves, the EBRD points out.
"The dark scenario we feared did not materialize"
Most of these countries have nevertheless taken measures to limit the effects of inflation, reminiscent of those undertaken in Western Europe. Poland lowered VAT on petrol from 23% to 8% and on heating from 23% to 5%, while Croatia, Romania and Slovakia capped electricity or gas prices – and sometimes both – for households. "But these aids are not sufficiently targeted on the poorest and do not provide enough incentives for energy savings", explains Beata Javorcik.
Despite these very gloomy observations, the EBRD is however a little more optimistic than in May on its growth forecasts for 2022. According to it, this should stand at 2.3% in the region it covers – with large variations depending on the country –, against 1.1% previously. "Activity held up better in the first part of the year in Eastern Europe, in particular because households spent the savings accumulated during the Covid, explains the chief economist. And, in Central Asia, the dark scenario that we feared did not materialize. »
You have 40.77% of this article left to read. The following is for subscribers only.
---