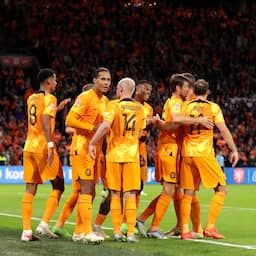 Now that the last matches in the group stage of the Nations League have been played, it is also known what the pot layout looks like for the draw for the qualifying series for the European Championship 2024. The Netherlands is in pot 1 and is therefore avoiding many strong countries.
The pot division is determined based on the performance of the nations in the Nations League. The Netherlands leads that ranking. Spain, Croatia and Italy, who, like the Orange squad, qualified as group winners in division A for the final round, are also sure of a place in pot 1.
The Netherlands cannot enter the same group as Denmark, Portugal, Belgium, Hungary, Switzerland and Poland. Germany would also be entitled to a place in pot 1, based on the ranking, but has automatically been placed as a host country for the European Championship.
Not all strong countries are in pot 1. England and France disappointed badly in the Nations League and are therefore sentenced to pot 2. The Netherlands can therefore hit one of those two superpowers. Russia is excluded from participating in the qualifying series.
Pot classification European Championship qualification
Pot 1: Netherlands, Croatia, Spain, Italy, Denmark, Portugal, Belgium, Hungary, Switzerland and Poland Pot 2: France, Austria, Czech Republic, England, Wales, Israel, Bosnia and Herzegovina, Serbia, Scotland and Finland Pot 3: Ukraine , Iceland, Norway, Slovenia, Ireland, Albania, Montenegro, Romania, Sweden and Armenia Pot 4: Georgia, Greece, Turkey, Kazakhstan, Luxembourg, Azerbaijan, Kosovo, Bulgaria, Faroe Islands, North Macedonia Pot 5: Slovakia, North Ireland, Cyprus, Belarus, Lithuania, Gibraltar, Estonia, Latvia, Moldova and Malta Pot 6: Andorra, San Marino and Liechtenstein
The Netherlands will be in a group with five countries anyway
A total of 53 countries are allowed to participate in the European Championship qualifiers. There are ten groups: seven with five teams and three with six countries. The Netherlands, Croatia, Spain and Italy will come as group winners in a group with five countries anyway, because they also have to play the final round of the Nations League in June 2023.
Qualification for the European Championship is a lot less strict than that for the World Cup. The number one and two of the group qualify for the European title fight.
The Netherlands even has a safety net, should the qualification fail: all group winners in division A of the Nations League are certain of participating in the play-offs, in which three more tickets can be earned.
The draw for the European Championship qualifiers will be made on Sunday 9 October in Frankfurt. The first matches are scheduled for the end of March and the series will last until November 2023. The European Championship itself will be held from June 14 to July 14, 2024.
---