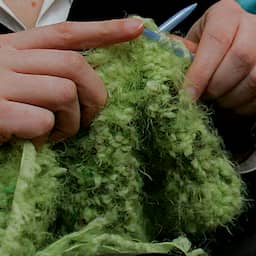 Sandra Heuvelman's campaign to knit and crochet draft hoses for neighbors with poorly insulated houses is catching on. The resident of the Buitenhof neighborhood in Delft says that she has been approached in recent days by many people from the country who want to organize such an action in their city.
"The aid campaign in Delft is small-scale because I have to combine it with my normal job," she says. "My deeper hope was that it would be copied elsewhere and that seems to be happening. Anyone who wants to work with it can request the project plan and knitting pattern from me."
A few weeks ago, Sandra Heuvelman came across the site of the Haëlla Foundation in The Hague via LinkedIn. This is a fund that helps small-scale projects against poverty to 'realize the ideals of passionate people'. Her plan to make draft hoses free of charge for neighbors could count on a start-up capital from the foundation. Sponsored by a wool shop in Pijnacker, she is now making 80 draft hoses with a group of volunteers.
Lots of media attention
After an article in this newspaper, RTL also paid attention to the initiative and she was approached for the Hart van Nederland program. "I didn't know that such a small action could count on so much attention," Heuvelman says modestly. "Hart van Nederland wanted us to come together with 20 knitters, but our group is not nearly that big."
---