The Brazilian Football Federation and the players of the national team expressed their disgust at the racist incident during the friendly match against Tunisia in Paris on Tuesday evening. Richarlison got a banana thrown at him in the French capital.
The 25-year-old attacker made the 2-1 on behalf of Brazil in the nineteenth minute. When Richarlison celebrated the goal with his teammates, a banana was thrown at the partying players from the audience.
"This time I saw it with my own eyes. This shocked us all," writes President Ednaldo Rodrigues of the Brazilian Football Association Twitter. "Racism must be punished more severely. The fight against racism is not about one thing. We need a fundamental change to eradicate crimes like this."
Richarlison himself did not realize that he was being treated racist. "I think God didn't allow me to see it because I don't know what I would have done in the heat of the moment. Hopefully this supporter will be identified and punished and this incident is a lesson for others."
For the app users: click on the tweet to see the moment when Richarlison gets a banana thrown at him.
Brazil made a statement against racism in advance
Before kick-off, the Brazilian players had posed behind a sign that read: "Without our black players, we wouldn't have a star on our shirts." On the shirt of the 'Seleção' there are five stars, which stand for the five conquered world titles.
The internationals made their statement in response to the racist treatment of Vinícius Júnior, the Brazilian attacker of Real Madrid. Atletico Madrid fans recently made monkey noises during the game against Real. Vinícius came into the field against Tunisia after the break.
Captain Thiago Silva finds it unbelievable that there was again a racist incident during a football match on Tuesday evening. "I think it's very sad because this is not football. Football is about supporting your team. On the field we try to give everything and actions like this damage football."
Despite the incident with the banana, the friendly international was played out and Brazil eventually triumphed 5-1. Raphinha (two goals), Neymar and Pedro accounted for the other goals in the Parc des Princes.
Brazil's players made a statement against racism before the game.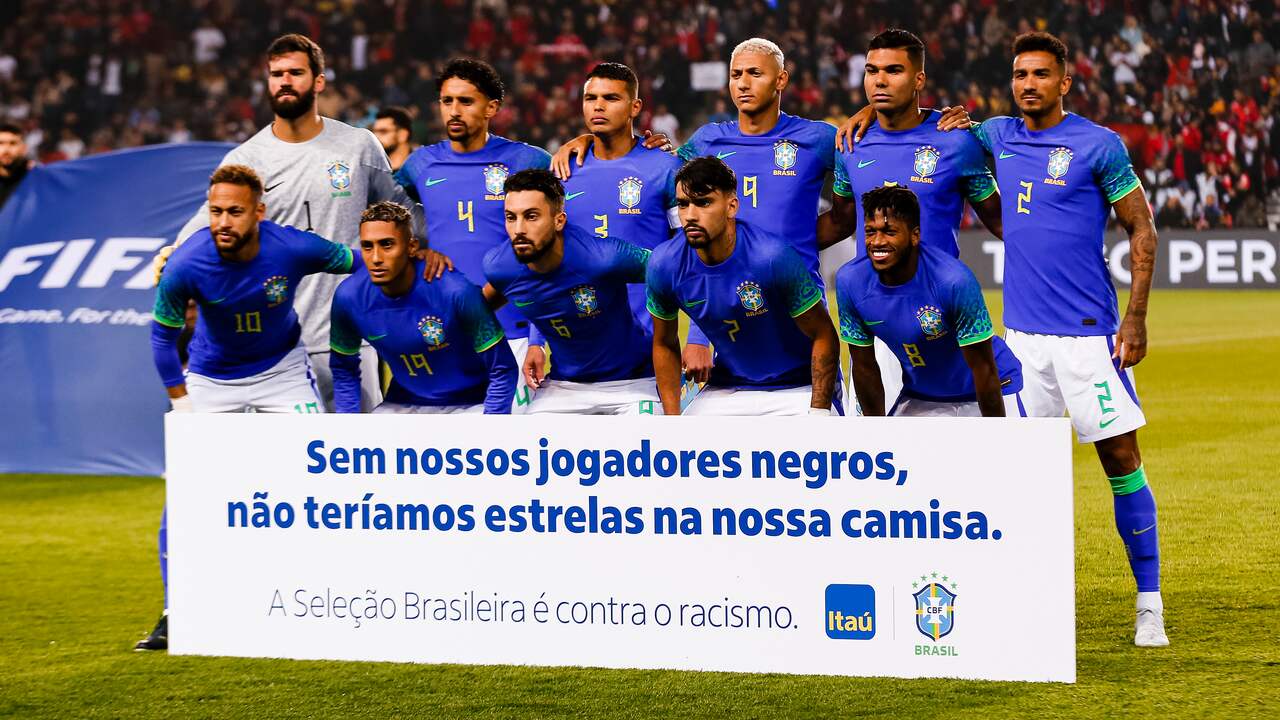 Brazil's players made a statement against racism before the game.
Photo: Getty Images
---