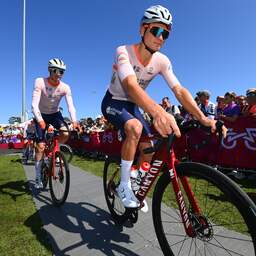 Mathieu van der Poel responded for the first time to his conviction in Australia on Tuesday. The Alpecin-Deceuninck rider regrets the much-discussed hotel incident that cost him the world championship: "I should have done it differently."
"I had imagined Australia a bit differently, of course," says Van der Poel with a sense of understatement to the Flemish VTM, shortly after landing at Brussels airport Zaventem. The 27-year-old Dutchman returned to his home country of Belgium on Tuesday, after his participation in the World Cup had ended in a fiasco.
Van der Poel, one of the top favorites, was arrested by the Australian police the night before the road race for allegedly attacking two girls. Initially, Van der Poel denied having touched the chained adolescents. On Monday, he had to retract his statement and was sentenced to a fine of 1,500 Australian dollars (more than 1,000 euros). Van der Poel already stopped the race after 30 kilometers.
"I grabbed one girl by the arm, certainly not with the intention of hurting anyone," Van der Poel describes the event. "Anyone who knows me knows I've never hurt anyone. There are a lot of stories about pushing and stuff. That's absolutely not true. That's not what happened. There are two versions of the story and if you're in Australia, it's hard to deal with that."
Images of incident circulating
Video images of the incident are now circulating, showing one of the girls banging on Van der Poel's door. The Dutch rider then angrily runs after her into the hotel room of the adolescents and jumps over the bed, wearing only boxer shorts. It is not clear that Van der Poel touches one of the girls, although the Australian judge considers this proven.
"Of course I regret it," says Van der Poel. "I made a mistake, I admit that. I shouldn't have done that. I should have done it differently, but unfortunately it happened. I'm trying to put it behind me and look ahead to what's to come. "
"I should have informed the reception or someone else anyway, but it was already late and I wanted to sleep. I thought I could solve it myself and that turned out completely wrong. Unfortunately I can't change it anymore. "
---