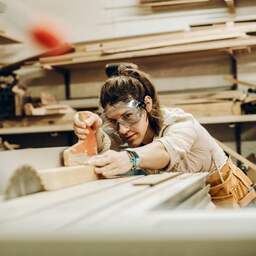 How much you can earn in your profession in the Netherlands largely depends on your sector or industry. But exactly how high (or low) are the wages for different occupations? This week: carpenter (m/f/x).
It is a golden age for the practically trained, such as carpenters. Demand exceeds any supply. And the appreciation for this profession is also reflected in history. Many chose the surname Timmerman(s), which now accounts for about 17,000 Dutch people. By the way, nobody is called Carpenter.
Statistics Netherlands counts more than 400,000 construction workersLess than half of these are construction workers, including so Carpenter. Incidentally, employees in carpentry factories, such as those working for window frames, are sometimes included in this profession.
What are the requirements to become a carpenter?
The MBO training as a carpenter (m/f/x) lasts a maximum of two years. Preparatory training is an entrance course, a VMBO Basic Professional Learning Path diploma, a Construction and Infrastructure Assistant diploma or a HAVO or VWO transition certificate from year 3 to 4.
During the training you will follow an internship or work at a construction company, under the guidance of a professional in a BOL (vocational training pathway), with the majority of the training at school through or in a BBL or vocational training pathway. You will receive an internship allowance.
With your diploma Carpenter (level 2) you can progress to the Allround Carpenter training (level 3). Then you can get started as an independent carpenter. After that you can continue your education for higher positions.
What do you earn as a novice carpenter?
The new collective labor agreement of the Dutch Trade Association for the Carpentry Industry (NBvT), FNV and CNVvakmensen has been concluded for the period December 1, 2021 to March 1, 2024. According to the NVbT, this concerns about 14,000 employees.
The minimum wage for a 17-year-old, without vocational training, is 1,700 euros gross per month. If you follow a BBL course, you can earn almost 1,100 euros gross per month as a sixteen-year-old, and as a twenty-year-old at least 1,900 euros and a maximum of almost 2,300 euros gross with a level 2 diploma while you continue studying for level 3.
From the 21st year, as of 1 January this year, in scale A, a monthly wage of 1,860 euros gross per month with zero years of experience, to almost 2,000 euros gross with four years of experience. For the much higher scale I (for managers), the starting salary is immediately much higher: 4,000 euros gross per month.
Carpenters also work in construction. "You hardly find the 'professionals' in this industry, because they are mainly factory workers," says Hans Crombeen, collective labor agreement negotiator for FNV Building and Living. He used to do this collective labor agreement, but now he does the union's collective labor agreement for Construction & Infrastructure. There is just one new collective labor agreement closed before 2023 for 120,000 employees. "The largest job group is that of carpenters, 30,000," he says.
The collective labor agreement provides for a 2.5 percent increase in wages and benefits as of 1 January and 2.5 percent as of 1 July. Crombeen: "The construction industry traditionally works with hourly wages. A starting construction worker earns 15.84 euros per hour in Group B, an independent carpenter in Group D 18.01 euros per hour."
Wages are calculated over four weeks of 40 hours, so said amounts times 160 hours come to 2,534 euros and 2,880 euros per four weeks.
What extras are there?
Crombeen: "In Construction & Infrastructure, employees continue to be paid during the holidays and ATV days (short-time working). Together, this amounts to 45 or two months. In addition, employees are entitled to an individual performance bonus that is negotiated with their own employer. Currently This often rises to 30 to 35 percent of the wage. That amount is saved and paid out annually in May. Then employees have a large sum at once for, for example, a new car or caravan pitch."
Other extras include good pension provisions, and various arrangements in advance such as the 'heavy work scheme', which starts three years before retirement age for a shorter working week.
How far can you get in terms of reward?
The maximum achievable salary for employees of a carpentry factory is limited. For example, anyone who started at age 21 with 1,860 euros in scale A will earn 1,960 euros in the fourth year. That is only 100 euros more. For the better carpentry you can grow to a maximum of scale D. Production management is paid a lot better.
The wage tables of the Collective Labor Agreement for Construction & Infrastructure states for the position of contractor salary scale 4 to 6: a minimum of 3,000 euros gross per month and a maximum of 5,700 euros gross. Crombeen: "But in practice much more is being paid at the moment. Incidentally, there are also many workers in the construction industry who are not attached to a company."
After all, if you want to make optimal use of the tight labor market as a carpenter (m/f/x), then it is better to start for yourself. Please note that you have to do your own administration, in addition to setting up your own workspace, purchasing and communication with customers.
What is the labor market like?
Crombeen: "Of course there is a shortage of staff, hence the arrangements for good payments during learning processes. There is also growth, because working in construction is fun and varied. Perhaps the outflow of carpenters can be compensated. build every year, as minister Hugo de Jonge promised, then a huge problem would arise, so you don't hear much about that anymore."
We do not have permission for the necessary cookies. Please accept the cookies to view this content.
---